FrankenPope Finally Acknowledges the Crisis: 'Litter' in the Oceans; IN DEFENSE OF FRANKENPOPE: Cupich Goes BONKERS
Written by  Michael Matt | Editor – 9/3/18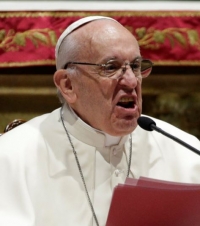 This is all getting just a wee bit too perfect, isn't it?
I mean, if you're a hater of the Catholic Church, SNL couldn't spoof it harder than this.  And, quite honestly, the boys in the Vatican can't be this stupid.
Cardinal Blase Cupich, in a word-vomitous effort to rationalize the Pope's guilt-ridden silence in the face of the Viganò Testimony, made the hilarious blunder of insisting that "talking about the environment" is of greater import than the "rabbit hole" of sex abuse scandal.
In case anyone missed it, we've highlighted the absurdity here:
As mind-bogglingly ridiculous as this sounds, Pope Francis actually thinks it's a good idea. So, two days ago, he played that worn out environment card, as if to remind us all that he's just a lovable hippie and that crimes against… the "great waters"… wound his very humble soul and that of all humanity:
VATICAN CITY — Pope Francis wants concrete action to combat the "emergency" of plastics littering seas and oceans.

Francis made the appeal in a message Saturday to galvanize Christians and others to work to save what he hails as the "marvelous," God-given gift of the "great waters and all they contain."

"Here too, our active commitment is needed to confront this emergency," Francis said. "We need to pray as if everything depended on God's providence, and work as if everything depended on us."

The pope also denounced as "unacceptable" the privatization of water resources at the expense of the "human right to have access to this good."
One wonders who on God's still-green earth is buying this papal bunk anymore? The TwitterVerse is over it, at least. Just to quote a few:
It's getting so bad now that one wonders if the St. Gallen Mafia weren't intentionally elevating a buffoon to the chair of St. Peter, knowing that his Titanic ego would eventually cause this poor, befuddled man to run the Barque of Peter headlong into the nearest iceberg.
Not sure about that, of course, but the Devil himself couldn't discredit the papacy any more expertly than this fellow.
Either that, or Bergoglio has entered dementia, and what we've got going on here is abuse of the elderly. In that case, please God, someone get Papa Bergoglio his pudding and electric blanket and turn on the Little House on the Prairie reruns. Because this is out of control.
For his own good, the poor man simply must stop talking.