Written by  Michael Matt | Editor – 8/21/18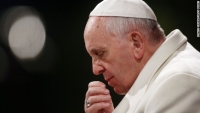 The world is outraged. Media vehicles, secular and Christian, are demanding justice, resignations, and further investigation. Even the glitzy World Family Meeting in Ireland (which began today), and all that hype over the Church's Coming Out Synod in October, can't protect Pope Francis from the flying excrement coming off the Pennsylvania fan. And what's he do?
He throws the ball into our court, like a good, caring father… At least, I think he means us when he says, "People of God."
Notably lacking in his windy Letter regarding the massive sex scandal is any kind of pledge to fix the problem or condemn the real causes. He's the Pope, but apparently this clerical mess is a "communal" one, which will be resolved "communally".
He also took the time to hurl a papal anathema at… clericalism, of all things… in his open letter to Catholics, which was supposed to be about apologizing for the sex abuse scandal in Pennsylvania. But, mostly, I think Pope Francis was telling us that it takes a village:
"Without the active participation of all the Church's members, everything being done to uproot the culture of abuse in our communities will not be successful in generating the necessary dynamics for sound and realistic change."
Thanks, Boss.
Unless those "dynamics" involve "active [Papal] participation", there will be no "sound and realistic change." But those words were carefully selected to mean just about whatever you want them to mean.
Ed Pentin and plenty of others are also pointing out the glaring omissions:
The Pope did not share practical details on how to prevent future abuse, nor did he mention the words "homosexuality" or "bishop," but said he was "conscious of the effort and work" currently being carried out to "ensure the safety and protection of the integrity of children and of vulnerable adults, as well as implementing zero tolerance and ways of making all those who perpetrate or cover up these crimes accountable."

"We have delayed in applying these actions and sanctions that are so necessary, yet I am confident that they will help to guarantee a greater culture of care in the present and future," the Pope wrote.

He also warned against a "peculiar way of understanding the Church's authority" that tries to replace, silence or ignore the People of God.

"To say 'No' to abuse," the Pope wrote, "is to say an emphatic 'No' to all forms of clericalism."
Okay, what in heaven's name is he talking about? Does he even know? At this point I'd be happier imagining that words spin through his head like a bingo game and fall out at random, rather than believe that this nearly incoherent papal sentimentality and, forgive me, blather, is the best that Team Bergoglio could come up with.
It's so lame that even his PR guy, Greg Burke, had to provide cover: "No effort to repair the damage done will ever be sufficient for victims and survivors."
Oh, so then we shouldn't even try?
Silly me, here I was thinking priestly perversion is specifically the Pope's problem. I guess not!
But, hey, at a time like this, who isn't amped up about a little papal anathematizing of clericalism and a lack of effective community organizing down there in the village.