"Vatican II priests" gather for morning prayer June 28 during the assembly of the Association of U.S. Catholic Priests in Albuquerque, New Mexico.
"Vatican II Bishop" Robert McElroy of San Diego speaks June 26 on 'lived reality' at heart of FrankenPope's pastoral theology, profound moment of renewal at the national assembly of the Association of U.S. Catholic Priests.
[Is this the Vatican II style of clerical attire? At the semiannual USCCCP confabs they  (including Bishop Bob) meet and pray in clerics! – AQ Tom]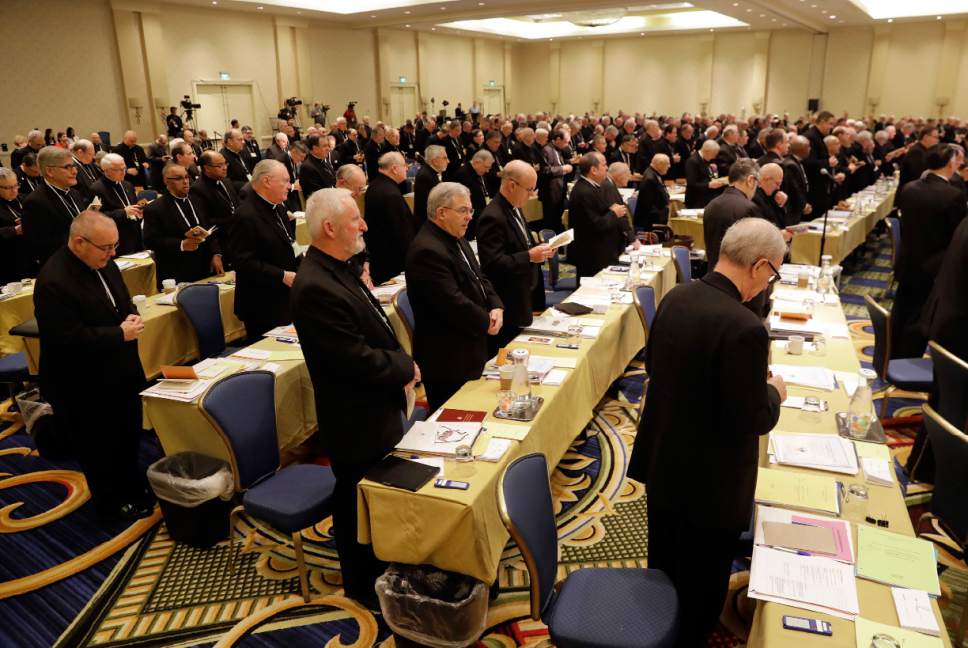 ALBUQUERQUE, N.M. — More than 200 participants at the annual assembly of the Association of U.S. Catholic Priests (AUSCP) June 25-28 here heard calls for the church to focus on young Catholics, embrace the pastoral theology of Pope Francis, and affirm the Second Vatican Council's theological spadework.
During two business sessions, the attendees — the vast majority of whom are what researchers denote as "Vatican II priests" — also approved four goals and passed eight resolutions on topics such as women's status in the church, ordination of married men, climate change, seminary formation and clericalism.
One of the more eyebrow-raising resolutions, titled "Gospel Non-Violence and Gun Control," committed association members to "never to carry a gun or other lethal weapon" for self-defense nor the defense "of another who is in imminent danger of suffering assault by an armed assailant."
Attendees ratified four organizational goals by at least a two-thirds majority on June 26:
Development of a white paper on the status of women in the church, to be spearheaded by Bonnot;
Creation of a white paper on clericalism, an effort proposed by Fr. Kevin Clinton of the St. Paul-Minneapolis Archdiocese;
Continued efforts to stress the need for a greater pastoral emphasis in seminary formation programs as well as psychosocial evaluation and professional training in discernment, put forth by Vincentian Fr. Dan Kearns of St. Louis, a member of the team that authored a white paper on seminary formationreleased in January;
Declaration of the care for creation as a "life issue" and urging of the organization to speak out on "reverence for creation," in line with Francis' encyclical "Laudato Si', on Care for Our Common Home."
The group also reaffirmed a 2017 goal on priestless parishes in which it suggested a larger role for lay ministers and better serving the faithful, association spokesman Paul Leingang said.
During a business session June 27, members passed eight resolutions, each again by at least a two-thirds majority.
"The purpose of a resolution is to give direction to the AUSCP leadership team, which, in turn, will develop a public statement and determine how and when the statement will be made public," Leingang said.
The approved resolutions included:
A call for "and end to the practice of separating children from their parents in managing immigrants and families seeking asylum at our borders";
Support for changing church language used in reference to persons who are gay, lesbian, bisexual, transgender or other gender minorities, backing Jesuit Fr. James Martin's "courageous voice" on behalf of LGBT persons and a call for churchwide ministries for LGBT persons and their families;
A commitment by association members to "never carry a gun or other lethal weapon" to protect themselves or others, but rather to "pledge willingly to interpose one's own person to shield a potential victim";
Encouragement for the work of students in Parkland, Florida, and others to "promote a multifaceted approach" to gun control;
Maintain pressure on church personnel and entities "for translations of liturgical texts that truly promote understanding and participation among all";
A request to "the American bishops to discuss the diminishing number of priests in active ministry," including consideration of ordaining married men;
A plea to the U.S. Conference of Catholic Bishops and U.S. dioceses to establish secure employee pension plans and to protect existing ones;
Encouragement for "dioceses, parishes and pastors to create structures which provide for dialogue among the people of the church."
More at https://www.ncronline.org/news/people/priests-social-justice-concerns-shape-assembly-resolutions