The priest objects to the fundraiser's organizers naming a local gay couple among the event's co-chairs.
The Rev. Ryan Erlenbush of the Corpus Christi Church in Great Falls told his Facebook followers in a Monday post that the school system "has lost its way when a prominent homosexual couple is advertised as the chairs for the annual fundraiser."
"What does a Catholic school have to do before people say 'enough' and take their kids (and their money) elsewhere?" Erlenbush asked in the post, which had by noon Tuesday garnered more than 100 comments. "I'm an alumnus of Billings Catholic Schools, and I say, 'enough.'"
The priest's Facebook post included a photo of a flier advertising the school system's annual Mayfair Gala Dinner and Auction, the school system's largest fundraising event of the year. The event is expected to raise close to $500,000 and to be attended by about 650 people, according to Billings Catholic Schools Foundation Executive Director Janyce Haider.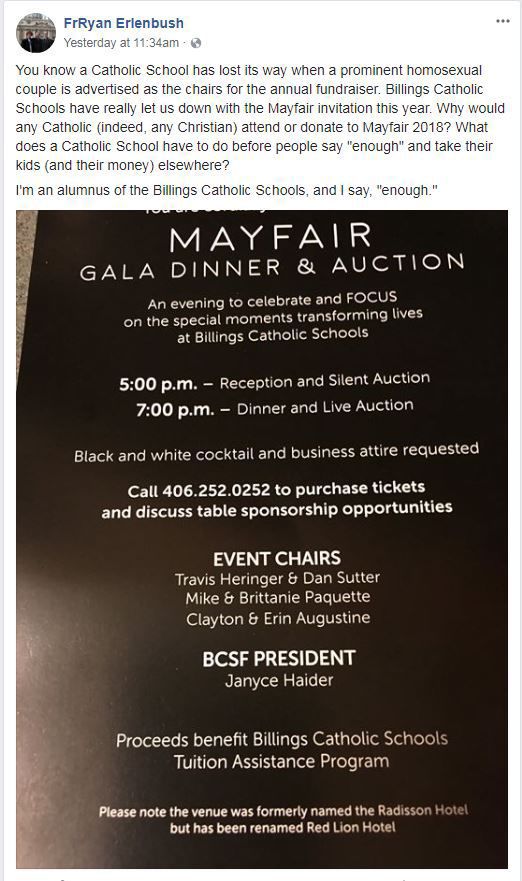 Among the three pairs of co-chairs are Travis Heringer and Dan Sutter, the couple who prompted Erlenbush's call for a boycott. Sutter referred media inquiries to Billings Catholic Schools President Shaun Harrington, and Heringer declined to comment directly.
During an interview at their office Tuesday, Haider and Harrington both said they stand by all six of their co-chairs, who were selected last October to plan and carry out the event.
"We have six wonderful chairs," Haider said. "They're doing a great job, and we're going to get through this Mayfair, and it's probably going to be the best Mayfair we've ever had. They're loving, kind, caring people. They're living a good life, and they're giving back."
Both said although they had been made aware of Erlenbush's comments, the priest had not contacted them directly, and they had not personally heard any backlash from the local Catholic community after announcing the co-chairs for the event.
The responses to Erlenbush's Facebook post appeared to be roughly split between those who supported the priest's stance and those who condemned it.
Erlenbush did not respond to multiple phone messages or an email from The Billings Gazette seeking comment Tuesday. The Great Falls priest serves as a secretary on the Diocese of Great Falls-Billings Priest's Council, according to the religious organization's directory.
Several commenters indicated they planned to follow his lead by withholding their contributions. Others pointed to statements made in recent years by Pope Francis, who has largely been seen as softening the Catholic Church's stance on homosexuals since being elected to the position in 2013.
The church's relationship with the gay community is complicated. Pope Francis has on several occasions advocated for a more inclusive approach by the church, which has traditionally regarded homosexuality as a serious sin.
In June 2016, the religious leader made headlines when he suggested that the church owes an apology to gays and other groups the church has historically marginalized.
"Someone who has this condition, who has good will and is searching for God, who are we to judge?" the pope told reporters during a flight from Armenia to the Vatican, according to the Associated Press.
The church's shifting stance on homosexuals has also generated news within the Roman Catholic Diocese of Great Falls-Billings in recent years.
In 2014, a gay couple who were lifelong Catholics in Lewistown were dismissed from their volunteer postsin the congregation and prohibited from participating in the sacraments at St. Leo's Catholic Church. The dismissal came after their marriage ceremony in Seattle was brought to the attention of a new priest at the church.
The decision left the couple struggling to move forward with their spiritual lives, and they told The Gazette at the time that Bishop Michael Warfel had failed to clearly articulate whether they could be restored to their former positions in the church.
Warfel did not respond to multiple phone calls from The Gazette on Tuesday asking for clarification on the diocese's position on Erlenbush's comments.
But Harrington and Haider were clear that the sexual orientation of a pair of co-chairs helping to organize this year's Mayfair event was not a factor that concerned them.
"It's 2018," Haider said. "We all said we need these six people — six people, not two gay people and four straight people — we need these six people with this energy to come in and help us."
In past years, much of the planning for the large event has fallen on the shoulders of just two co-chairs, Harrington explained. When six local people volunteered together last year to take the lead on the festivities, he said the governing boards of the organizations were happy to accept their help.
Both Harrington and Haider said they hadn't anticipated a backlash from the selection of two gay men, and said the school system largely embraces the types of messages that Pope Francis has offered on the issue.
"This is our attitude. Our school is inclusive, everyone is welcome," Haider said. " … It wouldn't be for us to say, 'You get to come, but you don't.' We want everyone who wants a faith-based education to feel welcome to come to Billings Catholic Schools."
Late Tuesday, the six Mayfair co-chairs issued a joint statement that said in part:
"We are alumni and parents of current St. Francis students. Examples of how the excellent, faith-based education of our schools, that builds leaders and inspires a life of service, are literally all around us. Not the least of which is the hard work and generosity of all of our dedicated volunteers and supporters who make this annual event possible.
"Our hope for the event is to focus and celebrate the impact that Billings Catholics Schools and our educators have had on us as individuals and on our community. At the event we would like to invite our supporters and our community to take a moment to celebrate and share those personal memories and moments of how the schools have enriched and transformed their lives."