Posted by 

Joseph Ostermeir on 
Tuesday, March 20, 2018

Fr. Z was the first to clarify the story HERE.   And now Newsweek has made it national news. 
Thanks secular press, now we have to comment.  Mahound's Paradise was one of the first blogs to do so, in a very balanced way.

Background:
For many years, I have only heard the best comments about the Canons Regular of St. John Cantius in Chicago. They are a Latin Mass community of priests and brothers who run St. John Cantius parish near downtown Chicago,  while training priests from all parts of the world to offer the truly extraordinary form of the Roman rite.  Aka the Traditional Latin Mass.
In fact,  Fr. Davison of the Tulsa diocese recently sent his associate pastor at the time, Fr. Elmer Rodriguez, to learn the TLM from the Canons,  to offer the traditional Mass in his place before he went on sabbatical.
I myself have visited St. John Cantius and can verify they are at the forefront of preserving our Catholic heritage, and perhaps the main stronghold of orthodoxy left in the archdiocese, just 1.5 Miles from the Archdiocesan Chancery no less.  The sanest place for a Catholic to attend a still faithful parish, I'd think.
And I always heard the best regard for the founder and parish pastor Fr. Frank Phillips,  for his holiness and pastoral care,  and commitment to preserving Catholic tradition,  during this universal Modernist Crisis.   He has served as St. John Cantius' pastor for an impeccable…30 years.
The late Cardinal George (RIP) seemed to hold him in high regard,  being a special patron of Fr. Frank Phillips and his traditional apostolate.
In fact just the other day,  Fr. Z wrote about his high regard for Fr. Phillips and his work.
The Archdiocese of Chicago,  post-Vatican II:
That said,  many informed, orthodox Catholics are acutely aware of the plague of modernist, actively homosexual clergy that have treated the Chicago diocese as their own devil's playground since the days of Bernadine, decades ago.   Talking to my well-followed trad blogger colleague, Oakes Spalding from the Windy City,  it is public knowledge that this is still the case.
I myself recall sitting down with the late Fr. Charles Fiore (RIP) who later worked with the FSSP and said the TLM,  as he talked to our group about how he and the Wisconsin traditionalist Fr. Alfred Kunz(RIP), both exorcists, once did secret, official missions in the archdiocese.  Their goal was to put a dent in the underground,  satanic,  pedophaelic, clerical cabal that operated there.  What he related made the hairs on the back of my arms stand on end, literally.  I would learn later this became widely, publicly known,  which is why I can share it.
And we are also acutely aware that their relatively new Francis-appointed bishop,  now a cardinal,  is one of the most influential members of the hierarchy to promote the heterodox policies and outright heresy found in Amoris Laetitia.
In fact,  Cardinal Cupich is officially leading the implementation of the document here in America, for all American bishops (Tulsa bishop too?),  including Francis' official, heretical clarifications of it.  The program includes a progressivist "accompaniment" of Catholics dealing with same sex attraction.  Openly gay Catholics,  including priests,  are to be treated with the utmost pastoral concern,  and incorporated as much as possible into the ecclesial life of the local church, says Francis in his document.
The Francis-appointed prelate in fact has publicly promoted a a conference in Chicago to promote the controversial,  progressive James Martin, S.J.'s approach to pastoral care of Catholics with SSA.
You can't make this stuff up.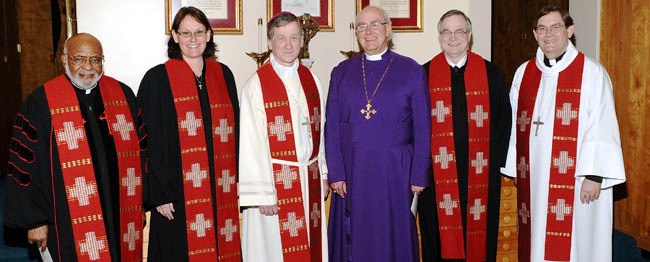 Non-Descript Allegations.    
All I am reading is that Fr. Phillips allegedly had improper interactions with certain males.  That. is. all. we. know.
There is no explanation of the nature of the conduct or how that would warrant an actual suspension from acting as a priest.
No public allegation has been made that Father used force or manipulation in whatever he is said to have done.
In fact, Father is not charged with either a canonical or civil penalty.  Yet he is somehow suspended from all public ministry.
Naturally, we should be concerned.  Priests in the past have abused others using their authority, even traditionalist priests in certain instances.  Of course there has to be procedure.
However, the allegations are decidedly non-descript.  The archdiocese is offering no clarity.  Yet, anyway.  Fr. Phillips' reputation of 30 years is impeccable.
For all we know he likes to give men hugs.  In the meantime, if you google his good name, that excellent reputation has been presently erased doing a google search.   Can it be restored, or has the damage already been done to him and the Canons Regular he founded?
Where's the "Accompaniment" Cardinal Cupich?
Fr. Z was the first to report the public announcement of Fr. Phillips' suspension,  asking for prayers for Father, a swift inquiry, emphatically defending his innocence, and giving his impression the decision seems "pretty sudden and draconian."  Draconian.
I talked to Oakes Spalding, blogger and St. John Cantius parishioner for 9 years,  who attends with his wife and children.  He was present for a meeting with diocesan representatives,  and has interviewed a number of people.  In his opinion, while the allegations are concerning,  overall they come across very questionable.  This situation naturally begs the question, if the allegations are trumped up as a political attack on the work of preserving our Catholic tradition in Chicago,  including the Mass of the Saints.  That is Oakes' perspective, at least.
Hopefully the diocese, if it was consistent,  would show as much accompaniment and discernment to the Catholic in question as it would to any other Catholic, be they traditionalist,  conservative,  or progressive, laity or priest.
According to Oakes, no assuring,  positive signs of accompaniment have yet to be shown to the accused pastor or the affected families of the parish.
Last Thoughts:
Myself,  having witnessed a verifiable rejection of two Latin Mass-devoted religious communities in my own local Church, recently,  without clear reasons given to the laity of the diocese, it does beg the question,  under the current pontificate:
Is there an open season on traditionalist communities in the wake of the current heresy/schism dividing the Church today?
This remains to be verified in Chicago,  under new church leadership.
But should we moderns who depend greatly on the internet world just ignore the bloggers,  pray,  and keep our protests to quiet whispers in the church parking lot?
Fr. Z himself thinks not,  calling for a public effort to address the authorities, to defend a good priest's rights and the good name of St. John Cantius as a Latin Mass community:
Everyone who can do something in addition to praying should also prompt, move, push and plead that this be swiftly investigated and swiftly resolved. In justice, this must not drag out, to the detriment of his good name and the good works which have multiplied over the years at the now world-famous St. John Cantius.
Folks, hopefully the suspension will end "swiftly" (Fr. Z's word),  but I'll follow the story again on the blog.  We Okie Trads here in the Heartland live 12+ hours away,  but this may as well be affecting our own local Church, and our own Latin Mass community.  I am convinced the same battle inside the Church, to further suppress Catholic tradition, is unfolding more and more in every single diocese, which is not a reason to despair,  but to act.  Yes pray,  but to voice our concerns to the pastors.
Join the Online Prayer HERE.
And I would encourage readers to respectfully contact Cardinal Cupich to express any concerns, as I will.