[In preparation for the Muzzie takeover to become Mariam Madrassa/Mosque?  Hat-tip to Tesa via Gloria.TV]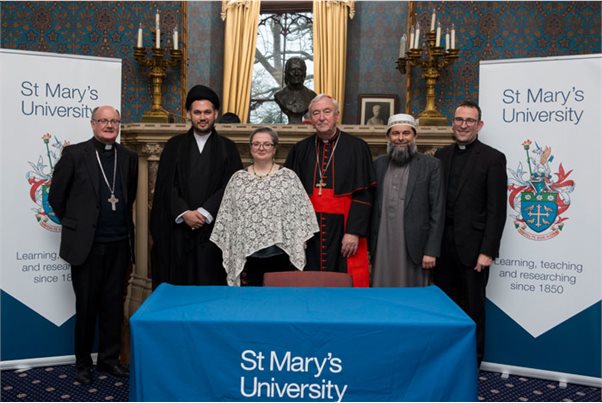 Cardinal Vincent Nichols and two leading Muslim clerics joined together today to launch a new Muslim Certificate in Religious Studies at St Mary's University, Twickenham.
On the site of a notable address delivered by Pope Benedict on faith relations in 2010, the religious leaders will open a new interfaith prayer room and announce the launch of the certificate as the newest product of their long-standing dialogue.
The new certificate will aim to support the religious literacy of teachers and enhance the contribution that religion can make to the formation of British values as referenced in the Professional Standards for Qualified Teacher Status.
It will primarily be aimed at those teaching religious education in Muslim schools and will support a cohesive approach to teaching in line with the National Curriculum and contemporary teaching practices.
Imams Sheikh Ibrahim Mogra and Sayed Razawi have been in discussions to develop the concept and the University is now working in consultation with academics from universities across the UK to develop the programme in more detail. The certificate will complement the University's Catholic Certificate in Religious Studies.
Speaking about the launch, Cardinal Vincent Nichols, Chancellor of St Mary's University, said: "I am delighted to welcome our distinguished guests to St Mary's and pleased that they can join us in celebrating our continued commitment to promoting interfaith dialogue in the UK and ensuring that our university provides the most welcoming environment for students of all faiths."
Sayed Razawi said, "We are extremely happy that St Mary's has taken up our call. We are walking shoulder to shoulder, working together. Today here at St Mary's, there is no longer the other; there is an us. This certificate is a partnership, a first and truly authentic as it is ratified by four senior imams. When we talk about integration this is a wonderful way of doing this through education."
Sheikh Ibrahim Mogra said, "those of us involved in interfaith dialogue are often challenged about outcomes. To see the fruits of this dialogue is wonderful and shows what can be done. Thank you to the Cardinal for his leadership which has led to this Muslim certificate which will help understanding of Islam in this country from the perspective of believers' for the benefit of all in society."
Vice-Chancellor of St Mary's University, Francis Campbell said: "St Mary's has a strong record in developing outstanding teachers who go on to teach in faith and non-faith schools and we are pleased to be able to extend this experience to other faiths. It is as important as ever to ensure that there is open and inclusive dialogue around faith in the UK and this Certificate is a crucial contribution."