Praise God, there's evidently a modicum of Catholic sense left in the world today, despite Pope Francis. As the Rockn' Reformation Party gets rollin'– seamlessly in harmony with Pope Francis's promotion of Luther's revolt with a show of unity based in emotion on steroids on the one hand, and doctrine on morphine on the other — traditional Catholics are crying foul.
First off, let's go to Brussels, capital city of Belgium.  This story was sent to us by friends in the Netherlands:
Hello, Remnant:
Here's a video that admits all the terrible things surrounding the 500 years Reformation. A few young people in Belgium (of all places) give heroic testimony.
Traditional Latin Masses are growing in size and in number in the Netherlands! Thanks for the videos of the CIC. It helps us in Europe!
Thank you. Keep the old Faith. By the way, if these guys are looking for wives I've got five daughters. Young Catholic men like these will change the world.
Next up The Remnant's own Elizabeth Yore makes her contribution to the Rockin' Reformation Party by commenting on the new Vatican stamp, celebrating the 500th anniversary of the Protestant Revolt— a revolt spearheaded, by the way, by one of the most anti-Semitic figures in history. But who cares!  Charges of anti-semitism are only fun when they're leveled against the Catholic Church.  So Martin Luther gets a pass, of course, even when he's infamous for lacing his work "The Jews and their Lies" with whoppers like this:
Therefore be on your guard against the Jews, knowing that wherever they have their synagogues, nothing is found but a den of devils in which sheer self­glory, conceit, lies, blasphemy, and defaming of God and men are practiced most maliciously and veheming his eyes on them.
Gee, I wonder how the Southern Poverty Law Center managed to miss Pope Francis' efforts to rehabilitate one of the biggest anti-Semites in history.
But I digress. Here's Elizabeth Yore's noteworthy effort to draw attention to the really very lovely Vatican Protestant Revolt stamp, only with a nice little splash of color all her own: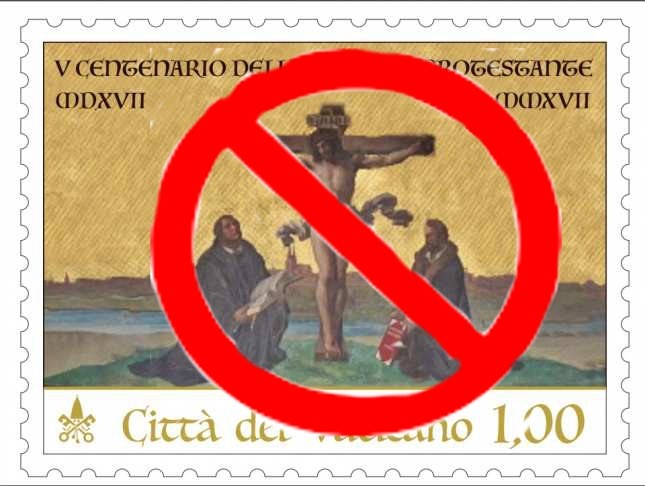 And, finally, there's this from our friends in Grand Rapids, Michigan:
Dear Friends and Fellow Catholics at the Remnant,
I wanted to provide you with a recap of a prayerful protest at the Cathedral of St. Andrew in Grand Rapids, Michigan.
On Sunday, the Feast of Christ the King, there was an "Ecumenical Prayer Celebration" taking place to commemorate the 500 year anniversary of Martin Luther's schismatic revolt against Holy Mother Church.
This event was sponsored by none other than the local Catholic ordinary, Bishop David Walkowiak.
A video of the abominable event can be found here.
In the spirit of Archbishop Lefebvre and of so many great defenders of the faith before us, we had about 30 parishioners participate in the recitation of all 15 decades of the Most Holy Rosary while holding banners (for Our Lady, St. Joseph, and Christ the King) and posters (with professions of faith, a desire for true unity, and a call to pray the rosary). Our prayers and admonitions were, as St. Paul wrote to the Ephesians, "with all humility and mildness, with patience, supporting one another in charity."
We were able to gather near the entrance to the Cathedral on public property and earned the attention of nearly everyone passing by.
A handful of people stopped, one of them expressing his displeasure with us, another for 5 minutes of discussion…even an older priest who we humbly and respectfully reminded of his duty to oppose error (and not to promote it!).
It is certain that Our Lady and Our Lord Jesus Christ, on this special feast day, would find some solace in these prayers of reparation for so many lost souls divided by the errors of one of the most infamous men of the past two millennia.
Of note, please pray for a gentleman named Russell who joined us for all 15 decades. Russell is homeless and became Protestant during his adulthood after having been Catholic as a child.
His wife died from cancer, and his mother just died. His family does not want anything to do with him.
There is all but certainly more to his story, but suffice it to say he still remembered all of the prayers. He was given a rosary and some money – neither of which did he ask for.
Let us pray that Our Lady will cover him in her mantle and help guide him back to the faith and to care for his temporal needs.
If you would like to email the Bishop to express your concern with this event (and so many others like it), I believe his email is: dwalkowiak@dioceseofgrandrapids.org
Way to go, guys!  You've got the faith, they've got the buildings. But maybe not for much longer.