Dutch Cdl. Eijk: Euthanasia Is Always Evil
"It is never ever allowable to violate intrinsic values … Was it not naive, when he [Dr. Chabot] started this in the 1990s, to suppose that ending life for psychiatric disorders would remain limited to a few cases only?"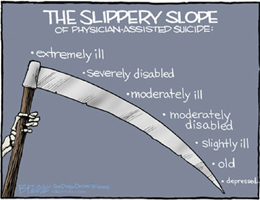 ["Down the sippery slope"]
by Bradley Eli, M.Div., Ma.Th. • ChurchMilitant • August 3, 2017
UTRECHT, Netherlands – A Dutch cardinal is affirming that euthanasia is always intrinsically evil while agreeing with one psychiatrist, who is alarmed over the nonconsensual killing of incapacitated mental patients in the Netherlands.
In a statement Tuesday, Cdl. Willem Eijk of Utrecht, Netherlands, agreed with psychiatrist Boudewijn Chabot, a Dutch promoter of assisted suicide, that the country was ignoring legal limits to its euthanasia laws and even killing patients without their consent.
"Chabot is now complaining about a development he himself initiated," said Cdl. Eijk. "Of course, it's good to read that an initiator and early advocate of euthanasia and assisted suicide is now concerned," he added.
He clarified, "But the Dutch bishops' conference has warned from the beginning against violating the intrinsic dignity of human life through euthanasia or assisted suicide, because it is never ever allowable to violate intrinsic values, and because in doing so you put yourself on a slippery slope."
Writing an opinion piece in June, Dr. Chabot decried the erosion of safeguards contained in the current Dutch euthanasia laws. Chabot, whose prosecution for assisting in the suicide of a 50-year-old woman led to the country's Euthanasia Act of 2002, said the following three criteria must be met for lawful euthanasia:
The patient must make a voluntary and deliberate request

The patient must be experiencing unbearable and incurable suffering

There must be no reasonable alternative treatment
Chabot is saying all three criteria are being disregarded and mental patients are actually being murdered under cover of the law. In January, he and 200 other doctors warned such safeguards were "slowly breaking down," resulting in the killing of many dementia and psychiatric patients "without actual oral consent."
In his article in June, Chabot said doctors are drugging patients and then killing them surreptitiously "because you cannot resist after being sedated." One month prior to his article, the Regional Euthanasia Commission reported that 431 patients had been killed in 2015 without having given their explicit consent.
In his remarks Tuesday, Cdl. Eijk upbraided Dr. Chabot for getting euthanasia started in the first place. The cardinal rhetorically asks, "But was it not naive, when he started this in the 1990s, to suppose that ending life for psychiatric disorders would remain limited to a few cases only?"
Witnessing what has happened in the first country to ever legalize euthanasia, the cardinal agreed that the killing was legal only "at the explicit request of a patient in the terminal stage of an incurable somatic disease" but has now been extended to include killing patients "before the terminal stage of life."
The cardinal is not surprised by the erosion of the law, which occurs he said when people open the door by accepting intrinsic evils such as euthanasia and assisted suicide. "When one breaks the principle that human life is an essential value, one steps on the slippery slope," said the cardinal. "Dutch experiences teach that we will be confronted time and again with the question whether the ending of life shouldn't also be possible with less serious forms of suffering."