[An AmChurch "no" to Trump's budget but a CalChurch "si" to Brown's]
With a photo-op of Communion for the Guv from a CalChurch bishop to go along with those of AmChurch for Sen. Kerry and CanuckChurch for PM Trudeau
6 prelates weigh in on Trump budget, find defense spending increase 'profoundly troubling'
Catholic World News – May 23, 2017
Six bishops who chair committees of the United States Conference of Catholic Bishops have issued a joint letter on President Donald Trump's budget proposal.
"Our Conference has long supported the goal of reducing future unsustainable deficits that would harm all citizens, especially those who are poor," the prelates said.
At the same time, "sharp increases in defense and immigration enforcement spending, coupled with simultaneous and severe reductions to non-defense discretionary spending, particularly to many domestic and international programs that assist the most vulnerable, would be profoundly troubling," they added.
The six bishops who signed the letter are Cardinal Timothy Dolan of New York, Bishop Frank Dewane of Venice (Fl.), Bishop Oscar Cantú of Las Cruces, Bishop George Murry, SJ, of Youngstown, Bishop Christopher Coyne of Burlington, and Bishop Joe Vásquez of Austin.
* * *
California bishops pleased with Gov. Brown's budget revisions
Includes several California Catholic Conference priorities costing millions
California Catholic Daily, MAY 23, 2017
The California Catholic Conference (CCC) was pleased to see that Governor Jerry Brown included new appropriations for several CCC priorities in his May budget revise. The newly proposed budget for the 2017-2018 fiscal year now includes funding for palliative care programs, early childhood education, retention of several beneficial programs and expanded funding for immigration related services.
A most welcome and notable change is the new inclusion of $1.3 million for the implementation of a Palliative Care Services program for Medi-Cal recipients, mandated to take effect no later than January 1, 2018. The CCC has worked to ensure that palliative care resources are available that show compassion and human value. The CCC will continue to advocate to expand support and funding for palliative care programs.
Also of great importance is the additional $15 million for immigration services funding, for a total of $30 million in the state's General Fund, to further expand the availability of legal services for people seeking naturalization services or assistance in securing other legal immigration status.
* * *

Pro-culture-of-death Governor Brown (ex-S.J. novice) receiving Communion from Oakland, Cal., Bishop Michael Barber, S.J.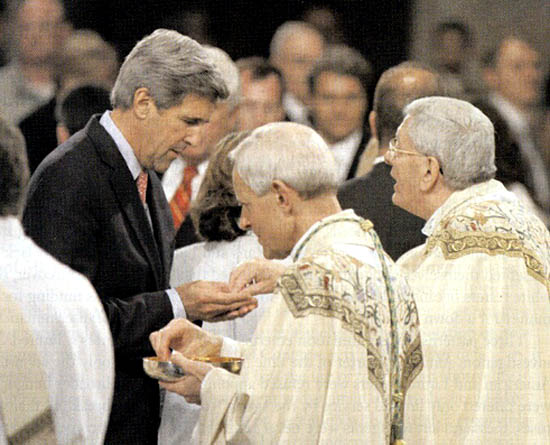 Pro-culture-of-death Senator Kerry receiving Communion from the papal nuncio with DC Archbishop Wuerl at his side

Pro-culture-of-death Prime Minister Trudeau receiving Communion from Montreal Archbishop Lepine