Gretchen Mills (Michael Matt's Sister) Has Gone to God, RIP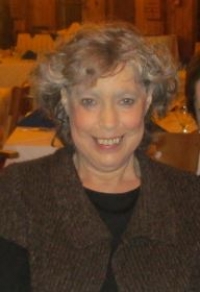 Written by Michael Matt | Editor
4/12/17
Last week I posted a personal story here on our site entitled "Lindsey's Gift of Life." Therein I shared the touching account of one heroic wife and mother, Lindsey Bourbeau, who though only recently starting out in married life, put everything on hold in order an undergo a major surgery to remove half of her liver and donate it to her husband's dying aunt—my sister, Gretchen (Matt) Mills.
"In a world filled with ugly selfishness and proud conceit," I wrote, "I'm conflicted by, on the one hand, the beauty of what is going on here, and on the other, a sense of deep concern for the lives and health of these two strong Catholic women… Until recently, Gretchen, though quite literally wasting away, was considered by her doctors not quite sick enough (she now suffers from advanced cirrhosis) to be a candidate for liver transplant, unless she could find a live donor. Her situation recently became quite critical, and that's when Lindsey stepped in."
I'm happy to report that Lindsey is out of Intensive Care and gradually beginning the months-long process of recovering from that surgery, which doctors are calling a success.
God had other plans for Gretchen, however. For seven days after the transplant, she not only responded favourably to the new liver but was also removed from the Intensive Care Unit, as well.
Though somewhat disoriented, Gretchen gradually began to emerge from an astonishing 17-hour surgery (her doctors had anticipated only 8) in good spirits. She could recognize family members, was able to communicate, smile and even pray and listen to music. She made it known almost immediately that her main concern was for the health and wellbeing of her young hero-niece, lying in a bed in the same hospital a couple of floors up. All in all, we dared to hope that Gretchen might just beat death one last time.
That hope was misplaced.
This morning things began to rapidly deteriorate, as an unknown infection set in overnight and began to cause massive organ failure. A short time later, I received an ominous text from my sister, Carrie: "Gretch has gone into code mode. Pray hard!"
And we did, on our knees, rosaries in hand.
Moments passed and then another text from Carrie and sister Cathy, both at Gretchen's side: "Jim is asking for all of our prayers. Gretchen's life has ended. I'm so sorry to be the bearer of this news."
Gretchen would spend this Holy Week in eternity, her life on this earth having been a long and hard-fought battle.
When Gretchen was younger, she'd worked as a first-rate nurse in St. John's Hospital here in St. Paul. She knew her stuff, and she certainly understood the risks involved in this surgery, better than her doctors, I suspect. She'd gone into the surgery fully aware of the awesome challenge she faced, and I don't think she deceived herself for one moment—it would take another miracle. But she believed in miracles, especially the kind that come with cooperating with God's grace. She'd consulted priests, friends and family in her effort to discern what God wanted her to do. "If this is God's will," she told to me a few days ago, "I'll do this thing…for Margaret and for Jim." And that's exactly what she did, with no regrets.
Her faith was positively on fire the last time I spoke to her, the day before her surgery. She was content and at peace, lying in her pre-op hospital bed. Her favourite priest had stopped by her house the day before, heard her Confession, given her Holy Viaticum, administered Extreme Unction in the traditional form, and bestowed upon her the Apostolic Blessing. She was spiritually invigorated, to be sure, but also ready to go, if it was God's will—and she said as much. She'd stared death down so many times in her life that this time her only concern was for her family (especially Lindsey).
For her, death had lost its sting. She even joked that if she did survive the surgery, perhaps her case could be considered for the necessary miracle in the process of canonizing one of her favourite popes—Pius XII.
But that wasn't meant it be. Despite Gretchen's iron will to fight and to live much longer than she should have over the past 40 years of chronic illness, this surgery was to be her last. But for the sake of her Margaret—the little "miracle baby" her doctors told her she could never have—Gretchen once again declined to go gently into the night. She knew how to fight! Nineteen years ago, she'd fought hard when her doctors warned her that she risked death if she tried to conceive a child. She and Jim placed their faith in God, Our Lady of Lourdes, and Gretchen's great heavenly pal, St. Raphael. They conceived a beautiful and healthy little girl—the light of her life and my godchild.
Since then and though she lived life to its fullest, her illness gradually grew worse as she accepted each new cross along the way to become an inspiration to us all, even as her battered body suffered every manner of affliction and indignity.
Despite it all, she lost neither faith nor hope, and was always the life of the party (when she felt good enough, that is, to leave her home for family gatherings). It wasn't a party without the "Grand Poobah", a nickname we'd given her after decades of illness necessitated special chairs and even beds to alleviate chronic pain. So we joked that even despite debilitating illness, she was always proud and present and perched on a pillow — like some Grand Poobah.
Dear God, we loved her so!
And so last week– for the sake of her family–she agreed to give life one last shot, trusting entirely in God's holy will. But I think God decided Gretchen had given enough, Gretchen had had enough. Her passing this morning—ironically, after a lifetime of pain—was quick and painless, as she slipped quietly into eternity, leaving behind so many memories for those of us who love her, worshipped her when we were young, and must now content ourselves to miss her for the rest of our lives. Our hope now is in the confidence that one day we may all meet merrily together again in heaven, if God so wills it.
In your charity, dear Remnant friends and family, please say a prayer for the repose of the soul of Gretchen Mills—one of my favourite people in all the world.
And dear, sweet Lindsey needs your prayers just now, too. To give so much so freely, only to have death take it away—this is a heavy cross to bear. But, obviously, this changes nothing where our family's unending gratitude for such a herculean effort to save our sister's life is concerned. We'll never forget what you've done for her, Lindsey, and neither will she.
Eternal rest grant unto, Gretchen, O Lord, and may perpetual light shine upon her. May her soul rest in peace.
(See you later, Sis. I love you forever.)