Married Priest Defends Married Priests (well, duh!)
Written by Michael Matt | Editor
3/11/17
This just in from Patheos (of course): "Ten Things to Remember About Married Catholic Priests", by Father Dwight Longenecker:
Pope Francis has said that he may consider the ordination of some married men. There is lots of room for confusion here. So here are [a few of] ten things to remember about this matter:

Celibacy for priests is a discipline not a doctrine – The Pope can't change doctrine. He can change discipline. A discipline is something like which liturgy you use, rules for fasting and abstinence and celibacy for priests. It is obviously something that can be changed because the Eastern Rite churches have married priests and because people like me (former Anglican priests who are married) can receive a dispensation from the vow of celibacy to be ordained.

St Peter was married – Jesus healed Peter's mother in law, (Mt. 8:14-15) so if you have a mother in law you must be married. Some people argue that Peter must have been widowed, but it would seem that his wife was still living and that she travelled with Peter on his missionary journeys. (1 Cor.9:5)
REMNANT COMMENT: This from a Catholic priest, husband and father of four, who spent much of his life as an evangelical Christian, before converting to Anglicanism at Bob Jones University (no less!) and then converting to Catholicism twenty years ago. To borrow from Thomas More, we must just pray that when Father's head is through turning his face is to the front again.
Ordained a Catholic priest just ten years ago, Father is now the eminently qualified neo-Catholic expert on married Roman Catholic priests. After all, St. Peter probably had a mother-in-law! On the face of it, it's really rather amusing. I mean, of course, Father is down with married priests—he is one! This is like asking a divorced and remarried couple for their unbiased opinion on how Amoris Laetitia's Paragraph 351 can be easily reconciled with Church teaching against unrepentant public adulterers receiving the Sacraments. Sure, it'd be a fun read– but how seriously would you take it?
Here's a prediction: In five years Patheos will be giving us the "Ten Things to Remember About Women Priests", written by Father Rhonda and her assistant pastor Father Trudy here: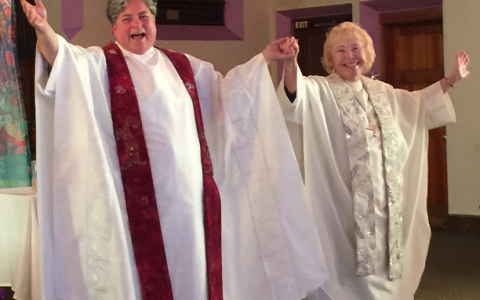 These girls will still be hiding their own Easter eggs, of course, but Patheos won't notice that and, let's be honest, this too will be a fun little read.
(As you were, ladies. You'll call us when the shuttle lands.)