FrankenPope writes preface to book by victim of clerical sex abuse except he coddles perverts and collaborates with those who protect them!
Posted by Vox Cantoris at Monday, February 13, 2017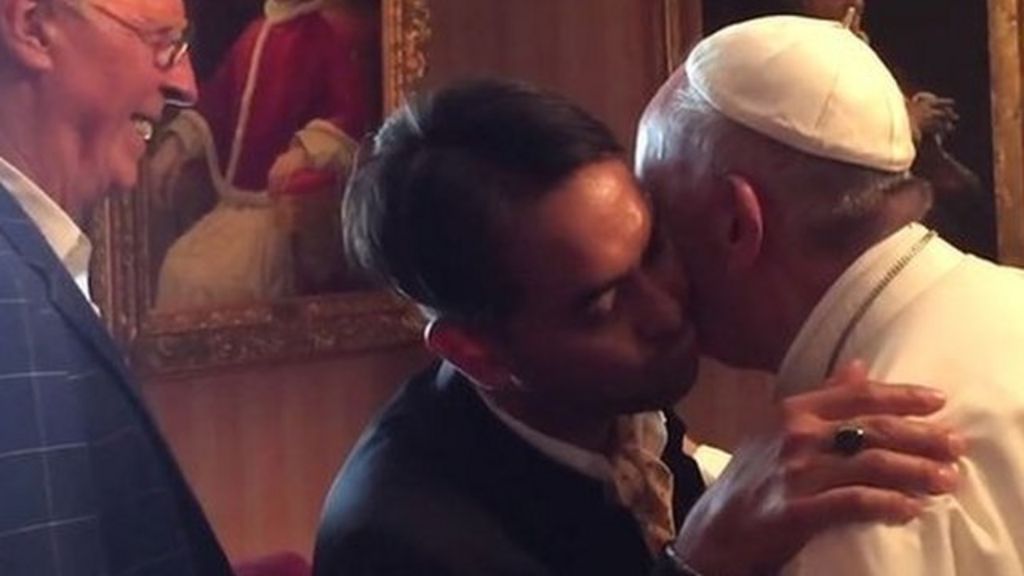 More Bergoglian hypocrisy.
Vatican Radio reports that the Pope has written a preface to a book written by a victim of sexual abuse by a pervert priest, a homosexual.
The facts are nearly all cases of pervert attacks by priests have been on post-pubescent boys between 11 and 17, not little children and not girls, thus proving that the problem is one of admitting to and covering up of sodomites — homosexuals into the priesthood. Now sodomite should ever be ordained, those that are now priests, should be under strict observation or removed from active ministry. (Yes, this means you dear friend, and you friend, and the other one). OUT!
Back to the Pope.
This is rich, eh?
That a Pope who collaborated with the pervert protecting heresiarch Danneels would do this.
Or the cover up in Argentina.
Or the Pope who would appoint as Ordinary a man who allegedly witnessed a rape in Chile.
Or who would discount the pervert priest elevator crime in with a rent boy in Ecuador.
And who now wants to take the investigative action into these perverts away from the Congregation of the Doctrine of the Faith and return it to the Congregation of Clergy where it can be covered up, all over again.
There is so much more.
So, who am I too judge?
A man who has no toleration for perversion against children. Something one wishes Bergoglio was man enough to do the same.
ADDENDUM from FrankenPope demonstrates his cognitive dissonance by writing a preface to a book on child sex abuse committed by clergy
Posted by hereisjorgebergoglio on 2/13/17
Six of the recent clerical sex abuses of children involving Francis:
Fr. Inzoli — guilty of molesting children and defrocked until 'merciful' Francis re-instated him. Inzoli is currently serving 5 years in prison for sexual molestation of children.
Fr. Nicola Corradi — abused deaf and mute children at Italian Provolo Institute in Verona, Italy. Students wrote and sent video messages to Francis pleading for action. Francis was mute on the matter. Corradi was arrested in Argentina with fellow priest Horacio Corbacho and three other men for sexual and physical abuse of children and is awaiting trial.
Godfried Cardinal Danneels of Belgium — covered up years of abuse of his close friend, Roger Vangheluwe, the then Bishop of Bruges. Video of this was leaked to the press. Instead of a "zero tolerance policy", which does not tolerate any bishop's covering up sexual abuses and sweeping them under the rug, Francis promoted Danneels.
Oscar Cardinal Rodriguez Maradiaga of Honduras — claimed that sex abuse crimes were exploited by the Jews to divert attention from the Israeli-Palestinian crisis. Has publicly expressed his allegiance to priests over victims, "For me it would be a tragedy to reduce the role of a pastor to that of a cop. We are totally different, and I'd be prepared to go to jail rather than harm one of my priests." Maradiaga is currently the head of Francis' Council of Cardinals (C9).
Fr. Karadima — sexually abused minors in Chile. His superior, Cardinal Errázuriz, was informed of the abuses one of the young male parishioner victims. "[Errázuriz] sent back a note, saying he was praying for Mr. Murillo, but failed to open a preliminary investigation. He chose not to do so, the cardinal said in an e-mailed response, because 'unfortunately, I judged that the accusations were not credible at the time.'" Errázuriz is currently a member of Francis' Council of Cardinals (C9).
Bishop Juan Barros — mentor to the above mentioned Fr. Karadima. "Over 1,300 Catholics in Osorno, along with 30 diocesan priests, and 120 members of the Chilean Parliament sent a letter to Pope Francis urging him to rescind the appointment of Bishop Barros which was scheduled for March 21, 2015." Instead Francis was filmed criticizing the Catholics of Chile who protested over Barros' appointment as bishop calling them "stupid".