In search of solutions to the present crisis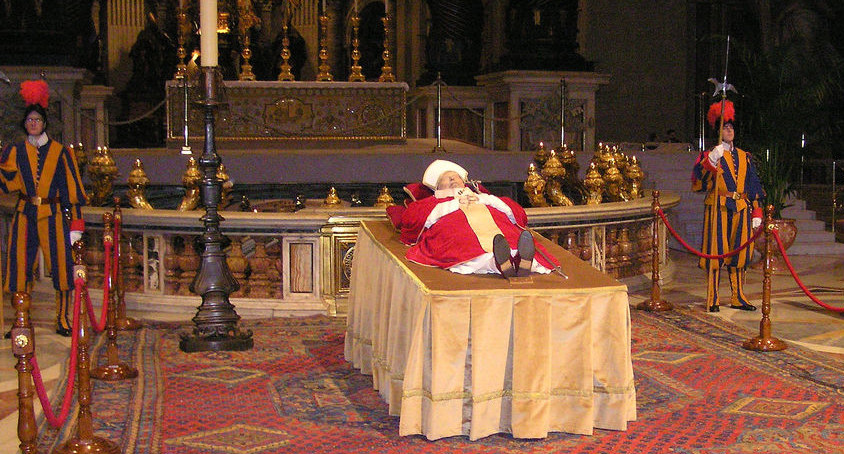 Pope John Paul the Great Ecumenist Right-wing neo-Modernist [says AQ moderator Tom] lying in state
Louie February 11, 2017
There was, and perhaps still is, a popular line of thought among conservative Catholics that is based on the presumption that the crisis in the Church will subside once death comes to call on the last of those who had some personal connection to the Council; the so-called "biological solution."
Back in 2012, several months before Pope Benedict XVI fled for fear of the wolves, Fr. Z wrote, for example:
The aging-hippies and their koolaid-drinking apprentices have awakened to the fact that they are losing many of their precious gains of the last few decades of their iron-fisted control. They are getting a little jittery … The spread of the use of the older form of Holy Mass is slow, but steady. On the other hand, the Biological Solution is at work. We will see, soon, a sharp upward curve in both trends.
Today as I write (with the benefit of 20/20 hindsight) it appears obvious just how wrong the conservative prognosticators were.
If, in fact, the bitter experience of life under the yoke of Jorge Bergolgio tells us anything about the future it's that they may have had it exactly backwards.
What the soothsayers perhaps failed to consider is that the "biological solution" is active on all fronts:
You see, while men like Karl Rahner, Edward Schillebeeckx, and Leo Joseph Suenens have gone to their eternal reward, so too have men like Archbishop Marcel Lefebvre, Cardinal Alfredo Ottaviani, and Cardinal Antonio Bacci.
The effect that this is having on the hierarchy is now being realized in the present reign of terror under Francis who said:
I am the first pope who didn't take part in the Council and the first who studied theology after the Council and, at that time, for us the great light was Paul VI.
Now, for a dose of reality: The one thing that all of the future popes will have in common is that each one will have cut their Catholic teeth on the fruits of the Council; raised in the age of endless dialogue, and formed in the new theology.
Sure, men like Cardinal Raymond Burke and Bishop Athanasius Schneider will still be around, but if we're honest we must admit that they are an anomaly, and truth be told, both are infected in some degree or another with the conciliar disease as well.
What's more, just as death does not discriminate, neither does the diabolical disorientation of which Our Lady forewarned. As I've written in the past, no one is entirely immune to it; not even the aforementioned Cardinal Ottaviani.
This being so, if odds makers were able to accurately formulate an early line on papabile for the next several conclaves to come, the favorites would almost certainly look a whole lot more like the American Blaise Cupich [AQ moderator Tom: Or the Filipino Luis Tagle] than any one of the Dubia Brothers.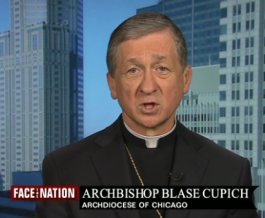 Let that sink-in for just a moment…
All of this, of course, is contingent upon the absence of divine intervention; the only solution that truly matters.
Our Lady of Fatima, ora pro nobis!