[Colombian Communist guerilla leader] Timochenko urges Pope to visit Colombia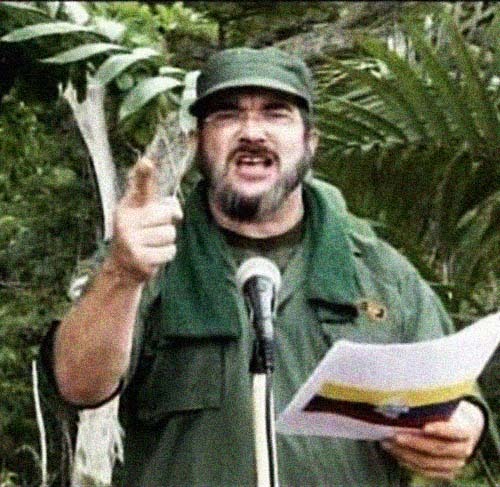 [Hat-tip to Canon212: "Colombian Communist FARC guerilla leader thanks Francis on his birthday, says he has troubles with 'fundamentalists' too!" But he knows how to deal with them]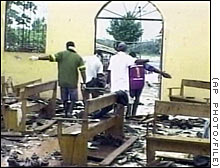 FARC killed 117 people when they rocketed the Bojayá church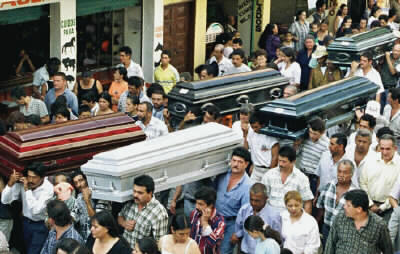 Funeral for FARC victims in Barbosa, Antioquia
The FARC leader confesses to Francis that "it is not easy to achieve consensus and reconciliation"
The Peace Accord "fundamentally promotes full guarantees for political opposition and social protest"
By Jesus Pretty, December 21, 2016
Canon212 Google translaton of www.periodistadigital.com/religion/america/2016/12/21/timochenko-pide-audiencia-al-papa-francisco-farc-colombia-uribe-santo
FARC leader Timoleon Jimenez, alias "Timoshenko", has written to Pope Francis to congratulate him on his birthday and seek audience with the Holy Father at the time in which he visits Colombia.
In the letter, the Pope Tymoshenko admits that " it is not easy to achieve consensus and reconciliation" in a country where "there are sectors dominated by fundamentalism". A fundamentalism that "is of such a nature that feeds the dark hand that adds Colombia to a painful sea of ​​blood."
"We turn to the most accused of sins, FARC, also would deserve a few minutes of reflection with you, before or during his scheduled visit to Colombia , " said the leader of the FARC, who defends the attitude of the archbishop of Cali Dario Monsalve, for his defense of the peace process, and alludes to the meeting, promoted by Francisco, between President Juan Manuel Santos and former President Alvaro Uribe.
"We hope that His Holiness and his prayers will contribute to putting an end to this tragic reality, while we trust that a more determined role on the part of the Colombian ecclesiastical hierarchy can tip the balance on the right side," adds Timochenko, Who argues that the peace agreement "promotes full guarantees for political opposition and social protest."
And, he said there are social and political sectors "linked to a nefarious past human rights and mass dispossession of peasant proprietorship" who oppose the result of "enormous effort of the Colombian people", and the last two governments.
* * *