On Eve of Election, Pope Francis Stumps For Hillary
[Follow-up to his February 2016 comment: "A person who thinks only about building walls, wherever they may be, and not building bridges, is not Christian," Francis said when a reporter asked him about Mr. Trump on the papal airliner as he returned to Rome after his six-day visit to Mexico?]
Written by Michael Matt | Editor
11/6/16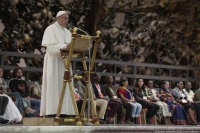 Pope Francis delivers his speech an audience with representatives of the popular movements at the Vatican Saturday, Nov. 5, 2016.
Though he mentioned neither candidate by name, it was obvious that Pope Francis was less than concerned that his talking points were bound to put him in Hillary Clinton's corner, just hours before the U.S. election.
[Jesuit-edited] America magazine reports:
In a speech delivered at the Vatican just three days before the U.S. presidential election, Pope Francis urged social justice activists from around the world not to give into the politics of fear by building walls but instead work to build bridges. "Because fear—as well as being a good deal for the merchants of arms and death—weakens and destabilizes us, destroys our psychological and spiritual defenses, numbs us to the suffering of others," he
said.

"In the end," he continued, "it makes us cruel."

The pope did not mention the Nov. 8 U.S. election, but many of the themes he touched on have played out in debates between Donald J. Trump and Hillary Clinton in recent months…

The pope said on Saturday that Christians should not give into the temptation to build walls, even in the face of "hateful and cowardly attacks," a reference to global terrorism. "Dear Brothers and Sisters," he said, "all walls fall."
REMNANT COMMENT: Gee, I wonder who he's talking about. "All walls fall"? Maybe he's hinting that Hillary's prison walls won't keep her behind bars forever. Yeah, that's gotta be it.
But seriously, Remnant columnist Elizabeth Yore seems to have a point when she writes that Clinton/Soros have managed to coopt the Vatican and make a surrogate out of Pope Francis. God help us.
In the meantime, Trump's message to Catholics isn't too bad. Check it out: