Are Bergoglio's minions settling the score with the 45?
Canon 212: 45 signatories who wrote cardinals on Francis Amoris Laetitia coming under pressure for rightful Christian witness.
[Worth repeating, because although Fr. Hunwicke emphasized the quote in his original post, it gets lost – buried within the section of his series that I posted as a comment]
Posted by Vox Cantoris at Sunday, September 04, 2016
Father Hunwicke writes:
Not long ago, as is well known, a group of 45 scholars, teachers, and pastors, wrote a Letter. (I emphasise that these people came from a wide variety of countries throughout the world: I emphasise this because I do not want what I am about to say to be narrowly construed as a criticism of any members of the English Church.) The Letter was addressed to each member of the Sacred College of Cardinals respectfully asking them to beg the Holy Father graciously to consider the clarification of certain parts of Amoris laetitia which have proved to be dangerously ambiguous. Cardinals, I think, count as Sacred Shepherds. This was a private letter (although its contents have unfortunately become public). Even if it had been a public letter, I do not see how it could have failed to enjoy the protection of Canon 212.

Dr Javier Hervada, sometime Professor of Canon Law at Navarra, comments on Canon 212: "The right of free speech and public opinion within the Church is acknowledged. Science, skill, and prestige are required to exercise the right justly or to give the corresponding moral obligation greater or less force. The basis of this right does not reside in these prerequisites but in the condition of being one of the faithful".

In the fourth year of this current pontificate, it is appropriate also to mention the insistently repeated calls of the Holy Father Pope Francis himself for Parrhesia [bold and free speaking] in the Church.

With regard to the paragraph which now follows below, I would like to make it very clear that I am not talking about myself or in any way describing or alluding to my own situation or any experience I have had.

Intimidation and cruel pressures have, it appears, been applied to persuade some of the signatories to the Letter to rescind their signatures.
Go ahead boys. Take your best shot at these 45.
It will be your downfall.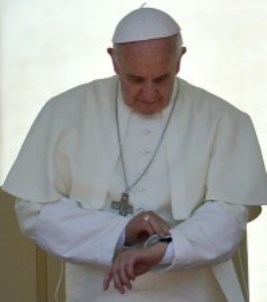 Yes, Bergoglio; your time is indeed short.