It's official: outdoor Catholic weddings a go in Butte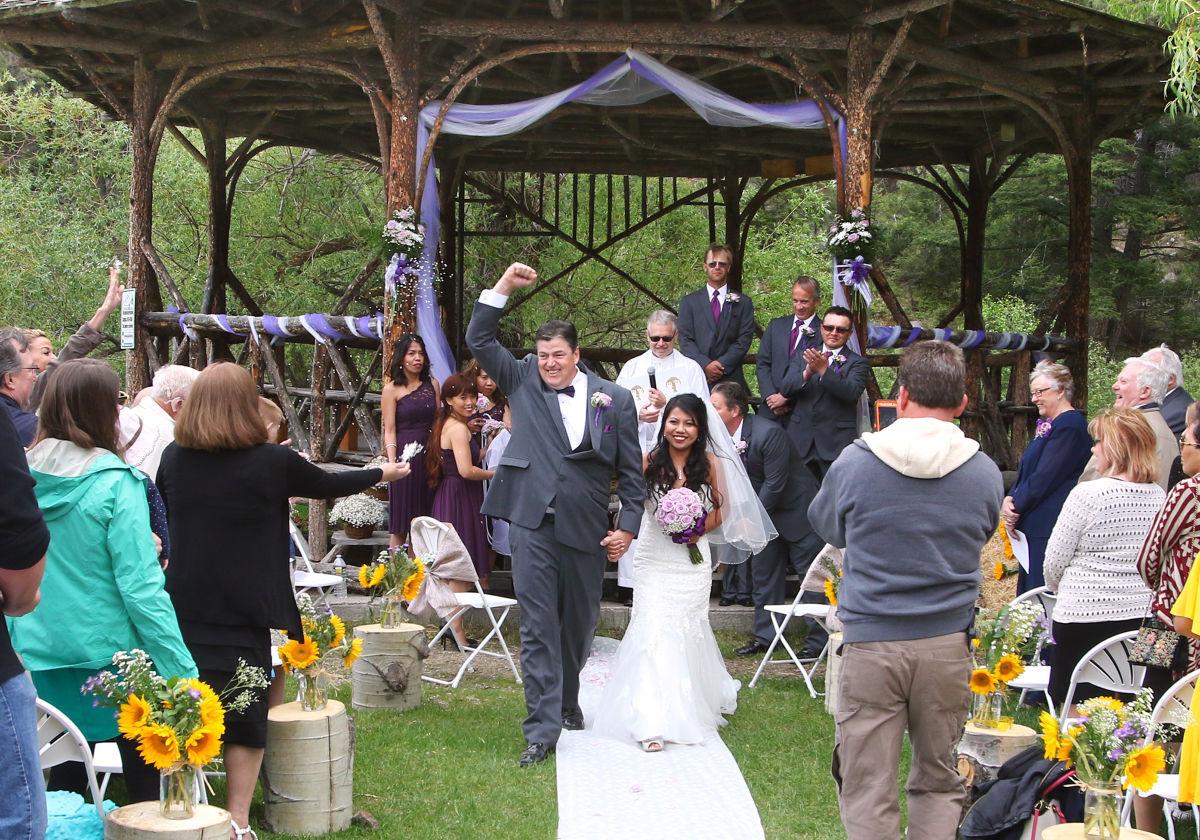 Mike and Jovlyn Satterthwaite walk down the aisle after being married by Rev. Patrick Berretta in a Catholic ceremony at the Basin Creek Reservoir Saturday afternoon. Outdoor weddings are very rare in the Catholic Diocese of Helena.
Renata Birkenbuel, The Montana Standard
6/12/16
For the first time in decades, the Catholic Diocese of Helena is allowing outdoor weddings.
On Saturday, Jovlyn "Jovy" Link, 28, and Mike Satterthwaite, 46, made recent history as the first couple to marry in an outside Catholic ceremony in Butte. They gathered at Basin Creek Reservoir.
"It's been a really long time since our parish had an outdoor wedding," said St. Patrick Church pastoral associate Seaneen Prendergast.
In May, the couple was "ecstatic" to learn Bishop George Leo Thomas gave them permission to wed outdoors in nature instead of inside their church, St. Pat's. Thomas gave his blessing after they sent him a written request.
In actuality, Saturday's wedding was one of the first enforcements of a new policy Thomas approved in June 2015. Local parishes are in control of final approval depending on local weather, distances and availability.
More recently, St. Pat's and Immaculate Conception embraced the policy, as well – just in time for warmer weather.
"We both love the outdoors," said Jovy, a four-year Butte resident. "When I moved here from the Philippines, I was like, 'Wow.' I've been dreaming about this ever since – that when the right day comes, I'd like to be married outdoors with a Catholic blessing."
"It's really cool," said Satterthwaite.
She grew up in the Philippines and he grew up in Butte.
Father Patrick Beretta, who officiated Saturday's ceremony, said the newly instituted policy serves two purposes: to connect spirituality to sacred nature and to better serve younger couples who want to wed outdoors.
"There is absolutely no contradiction to doing the ceremony outdoors," said Beretta. "People in Montana have a very special bond with nature. In Montana, more than anywhere, people find their peace in nature."
Beretta, known for his thrice-weekly walks of solitude with nature and his beloved dogs, said nature's draw is powerful.
The newlyweds, fervent outdoor enthusiasts, love to ski, snow sled, camp, four-wheel, fish, hunt, float the rivers and play Frisbee golf in Thompson Park.
* * *