Top Nun Calls for Women to Be Ordained as Deacons [and More?]
By Rosie Scammell
Religion News Service
05-18-2016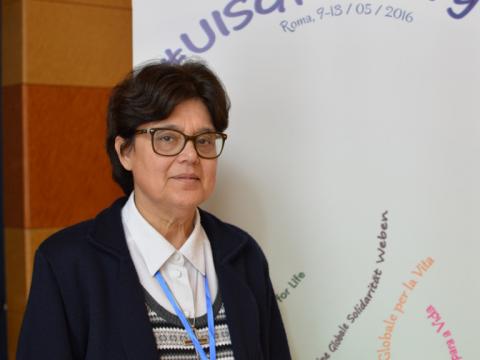 Sr. Carmen Sammut.
Catholic sisters globally would be better equipped to carry out their work if they could become deacons, the head of a global network of nuns has said, an important marker in the sharp debate over women deacons that Pope Francis opened last week.
"We are already doing so many things that resemble what a deacon would do, although it would help us to do a bit more service if we were ordained deacons," Sister Carmen Sammut, president of the International Union of Superiors General, or UISG, told RNS.
Francis put a spring in the step of women religious on May 12 when, in talking with Sammut and hundreds of UISG delegates, he agreed to set up a commission to examine whether women should be ordained as deacons — something that arguably hasn't been done since the early years of Christianity.
"I would like to constitute an official commission to study the question: I think it will be good for the church to clarify this point, I agree, and I will speak so as to do something of this type," the pope told the conference of sisters gathered in Rome to discuss key issues affecting their work.
The role of the deacon was created, as recounted in the New Testament, by the Apostles so that they could deploy ministers specifically dedicated to doing charitable works and thus free themselves to focus on preaching.
In the Catholic tradition, the role of deacon was eventually subsumed into the priesthood and hierarchy, until the Second Vatican Council of the 1960s revived the diaconate as an ordained order open to "mature" men over 35, who can be married.
But many say that order should include women — who have never been ordained at any level in the Catholic Church — because women deacons are mentioned in early church sources. They also say ordaining women as deacons would not necessarily lead to overturning the ban on women priests.
As pundits continue to debate whether Francis' decision will bear fruit, Sammut pushed for greater-than-usual diversity on any commission — even as she acknowledged that the Holy See is slow to change its ways.
The new body, the Maltese nun said in an interview May 13, should include both sexes and have a global perspective.
"Sometimes decisions are made here in Rome and it's not only that they're only men — no women — but also the other cultures are not very much included," Sammut said.
The UISG, she said, also aims to have more say in what goes on within the decision-making ranks of the Catholic Church, including challenging the way leadership is tied to being a cleric and therefore excluding women.
"It's not just a question of feminism, it's a question of our being baptized, that gives us the duty and the right to be part of the decision-making processes," said Sammut.
Women religious have felt empowered under the papacy of Francis, which the UISG head said has allowed them to "walk with more courage" in what can often be a dangerous job.