Bishop of Rome welcomes his fellow Rotarians to the Vatican for audience — Rotary funds Planned Parenthood!
Posted by Vox Cantoris at Saturday, April 30, 2016 @ voxcantor.blogspot.com/2016/04/bishop-of-rome-welcomes-his-fellow.html
In 1951, the Holy Office, now the Congregation for the Doctrine of the Faith, under the authority of Pope Pius XII issued a decree banning priests from joining the Rotary Club. It was reported in the secular press at the time.
Rotary funds Planned Parenthood.
Rotarians are not directly Freemasons, but the origin of Rotary is in Freemasonry as describied by Master Mason and Shriner, Joel Montgomery. According to Montgomery:
Freemasons were founding members of both the Lions Club and the Rotary Club. Gustave E. Loehr, a Mason, was a charter member of the Rotary Club (though it was founded by Paul P. Harris, who was not a Mason to my knowledge), and Melvin Jones, the founder of the Lions Club, was actually a Mason. But again – Lions and Rotary are not Masonic organizations.
Notwithstanding the Holy Office's decree, in 1999, Jorge Bergoglio, Archbishop of Buenos Aires graciously accepted Honourary membership in the "prestigious organisation."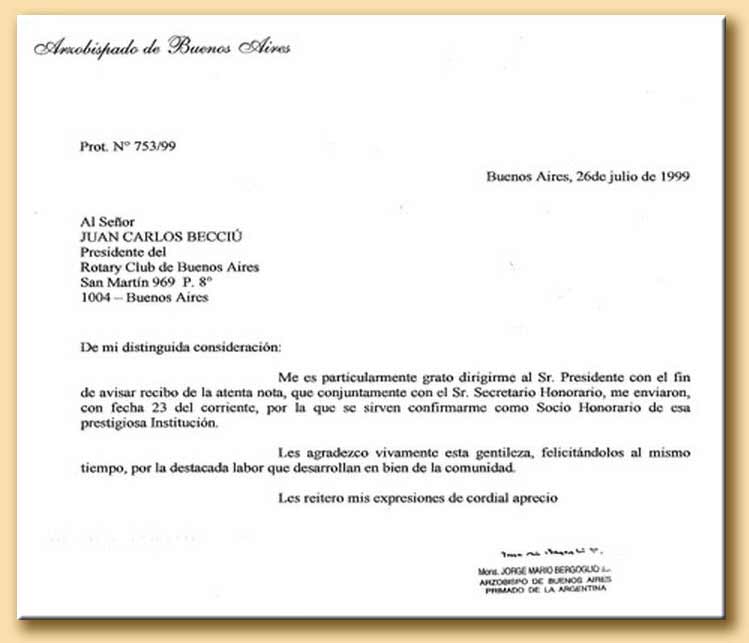 Letter of Cardinal Bergoglio at the rotary club
Today, in Rome, Jorge Bergoglio, its Bishop, and at his invitation, had a special audience with Rotarians.
Pope greets Rotary members at special Jubilee Audience