[The Astrological Adventures of Nancy and Ronald Reagan]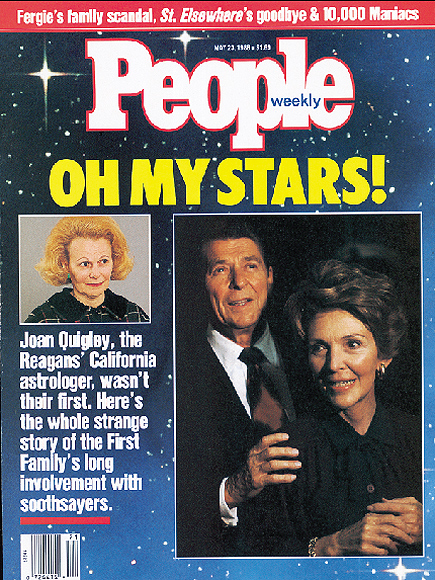 [Nancy Reagan, who died on March 6th, dabbled in astrology – not only by herself and not only concerning the 1981 shooting of her husband, President Reagan]
From: Pro-Astrology, Pro-Family, Pro-Pope John Paul II: The Complicated Legacy of Nancy Reagan
by PAUL KENGOR
03/09/2016
NCRegister.com/daily-news/pro-astrology-pro-family-pro-pope-john-paul-ii-the-mixed-bag-that-was-nancy
As the nation remembers Nancy Reagan, many faithful Catholics consider how they should remember her. It isn't an easy question.
For starters, it's kind of a non-starter to even try to size up Nancy Reagan, a lifetime non-Catholic, from a Catholic perspective. There would seem no overriding theme or story there, even as certain general negatives and positives come to mind. Among the former, for instance, serious Catholics cannot help but be bothered by her consulting an astrologer after the shooting of her husband in March 1981. That was all Nancy. She indeed did it.
For the record, Mrs. Reagan turned to astrology precisely because of the shooting.
"Astrology was simply one of the ways I coped with the fear I felt after my husband almost died," she candidly explained in her memoirs. She was told by Hollywood friend Merv Griffin that a Hollywood astrologer named Joan Quigley had warned that March 30, 1981, had been a "dangerous day" for the president. "Oh my God," Nancy shouted at Merv over the phone, "I could have stopped it!"
Nancy hung up the phone, picked it up again, and immediately called Joan. The Hollywood seer soberly told a shaken Nancy that she could have warned her that March 30 "was a very bad day for the president." The stars apparently had not been aligned in a fortuitous way.
"I'm so scared," a rattled Nancy told Quigley. "I'm scared every time he leaves the house, and I don't think I breathe until he gets home. I cringe every time we step out of a car or leave a building. I'm afraid that one of these days somebody is going to shoot him again."
Thus, Nancy was attracted to astrology as a way of coping with the trauma and (she hoped, grasping for anything) to perhaps protect her Ronnie.
* * *
[Ronnie was also involved and on occasions long before and after his shooting]
White House Confirms Reagans Follow Astrology …
By STEVEN V. ROBERTS
May 4, 1988
NYTimes.com/1988/05/04/us/white-house-confirms-reagans-follow-astrology-up-to-a-point.html
President Reagan and his wife, Nancy, are both deeply interested in astrology, the White House spokesman, Marlin Fitzwater, said today, and two former White House officials said Mrs. Reagan's concerns had influenced the scheduling of important events.
A California astrologer said she had been consulted by the Reagans regarding key White House decisions, but Mr. Reagan said astrology had not influenced policy.
Mr. Fitzwater said Mrs. Reagan is particularly worried about the impact astrological portents can have on her husband's safety. But he declined to say exactly how Mrs. Reagan had used astrological information. And the President, answering a question at a photo-taking session, said, "No policy or decision in my mind has ever been influenced by astrology."
The issue was stirred up by reports, first published in Newsweek, that Donald T. Regan, the former White House chief of staff, discusses the role of astrology in his memoirs. The memoirs are being published later this month by Harcourt, Brace Jovanovich, and excerpts are scheduled to appear in the May 16 issue of Time Magazine.
The book will detail the "kinds of decisions that were made" under the influence of astrological readings, according to a former Administration official.
Another former official said the President timed his announcement that he would run for re-election after he and his wife consulted astrological signs.
Early in his political career, Mr. Reagan scheduled his inauguration as Governor of California in January 1967 to take place at an odd time, 12:10 A.M. News reports at the time said the decision was made to take advantage of favorable astrological portents.
In answer to a barrage of questions today, Mr. Fitzwater said: "It's true that Mrs. Reagan has an interest in astrology. She has for some time, particularly following the assassination attempt in March of 1981. She was very concerned for her husband's welfare, and astrology has been part of her concern in terms of his activities."
The spokesman said the Reagans were distressed at the disclosures concerning their interest in astrology. "They both feel it's unfortunate and a distraction and hardly relevant to the business of government," he said.
Mrs. Reagan's influence on the President's schedule is well known, but generally she has argued that Mr. Reagan's timetables were "too tight and needed a little more down time," according to Joe Canzeri, a former White House aide.
Friends of Mrs. Reagan say she has long had an interest in astrology, but only a few of her aides apparently knew that she had an emotional concern.
Tonight, on the ABC News program "Nightline," Ted Koppel reported that he had learned that before the President was shot on March 30, 1981, an astrologer warned Mrs. Reagan that something bad would happen that day. In an interview after the show, Mr. Koppel said a woman astrologer had told Mrs. Reagan that "there was going to be an incident on that day." Mr. Koppel would not identify the source of his information.
A leading Republican strategist, with close ties to the White House, said the reports would not be damaging to the President. But others said the disclosures revealed a character trait in the President and his wife that had remained largely hidden to the public.
Marcello Truzzi, a professor of sociology at Eastern Michigan University, said he has collected evidence over many years documenting the Reagans' interest in astrology.
"I don't think Reagan is a truly avid astrological person, but I think if all things are equal, it has some impact on him," said Mr. Truzzi, who also heads an independent institute, the Center for Scientific Anomalies Research.
The disclosures were fodder for humor in Washington today. Mr. Fitzwater opened his briefing by saying, "I'll take your first question at exactly 12:33 and a half."
On Capitol Hill, Representative Tony Coelho, the Democratic whip, expressed amazement at Republican objections to a revised trade bill and said, "Maybe an astrologer is telling them to object today." Jim Wright, the Speaker of the House, said: "It's all right with me. I'm glad he consults somebody."
At his briefing, Mr. Fitzwater acknowledged that the President has a superstitious streak. He often talks in speeches about "lucky numbers," and jokes that the ghost of Abraham Lincoln resides in the White House.
Friends of Mrs. Reagan considered her reading of her daily horoscope a "fun pastime," as one confidant put it.
In his autobiography, President Reagan refers to Carroll Righter, a well known California astrologer, as "one of our good friends." Mr. Righter, who died last week, decorated his office with many pictures of the Reagans, according to Professor Truzzi. [ Obituary, page B12. ] "You have to remember where and how that part of their life started," said an old friend of the Reagans. "In Hollywood during the 30's and 40's, astrologers were social equals and friends, they weren't weirdos."