A Cardinal, a Priest and a Stripper: The Catholic Crisis Exposed
Written by Michael Matt | Editor
2/18/16
RemnantNewspaper.com/web/index.php/remnant-television/item/2330-a-cardinal-a-priest-and-a-stripper-the-catholic-crisis-exposed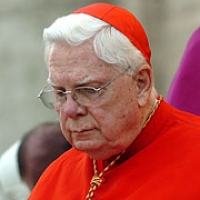 [The "disgraced"] Cardinal Law: Where Is He Now?
New from Remnant TV…
The clerical sex scandal and its real ramifications. Michael J. Matt tracks down clerical sex scandal cover-up man, Cardinal Bernard Law, living in a posh Renaissance palace in Rome.
Plus, why is the Vicar General of this Catholic diocese posing on Facebook with a stripper.
And, finally, first it was Gay Days at Disneyland but is Gay Day at Lourdes next?