www.breitbart.com/big-government/2016/01/28/top-washington-catholic-blasts-pope-cozy-photo-iranian-strongman/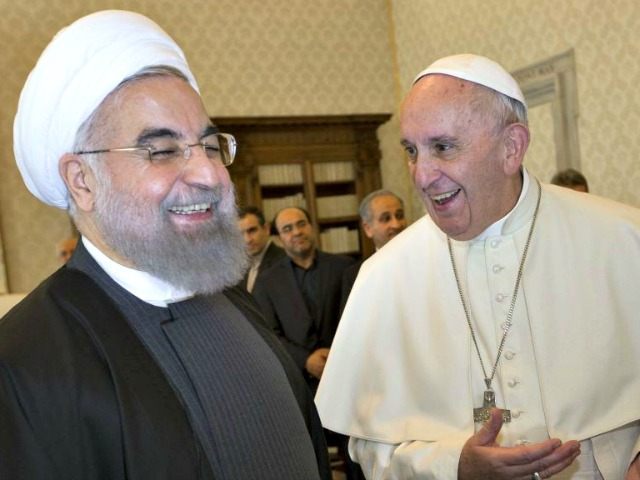 by Austin Ruse, 28 Jan 2016
In an email to top Vatican personnel and shared with his network of influential friends in Washington DC and around the world, Leonard Leo has blasted Pope Francis and the Vatican for the cozy photo that was allowed to be taken of Francis with Iranian President Hassan Rouhani that ran in newspapers around the world.
Leo, Executive Vice President of the Federalist Society, one of the most respected groups in Washington DC, wrote a scathing letter to Vatican Secretary of State Christophe El-Kassis, Monsignor Peter Wells, the highest ranking American in the Vatican Secretariat of State, American Greg Burke, the Vatican spokesman rumored to soon be appointed as chief Vatican spokesman.
Leo wrote, "This morning I was welcomed at the breakfast table with a front-page Wall Street Journal photo of Pope Francis and Iranian President Hassan Rouhani posing together with what only can be characterized as joyful, gleeful, and beaming smiles. I was deeply embarrassed for my Church, and each of you and every other official in the Holy See should be as well."
Leo said "A fair debate could be had over whether, at the present time, it is advisable for the Holy Father to meet with President Rouhani, I will assume, for purposes of this correspondence, that there are reasonable grounds for doing so, and will not quarrel with that decision."
"But the gracious and cordial atmosphere depicted in this and every other photo…demonstrate an utter lack of sensitivity to the disgusting and deplorable behavior being undertaken by Iran at this very moment, and, further demonstrate very poor judgment in how to handle a duplicitous and callous human rights abuser like President Rouhani," said Leo.
Leo said he thought it is fine "to meet professionally and quietly with a country and leader" such as the Iranian president but that the way the meeting was carried out and publicized "was a far different thing to undertake such a meeting in ways that outwardly provide a horrible totalitarian regime with legitimacy or moral equivalence and that offer those who are a part of the many religions they oppress and disdain with a sense of hopelessness."
[see the link for more]