Dominican Republic gov't urged to declare sodomite U.S. ambassador 'persona non grata'
January 7, 2016 | by Michael K. Lavers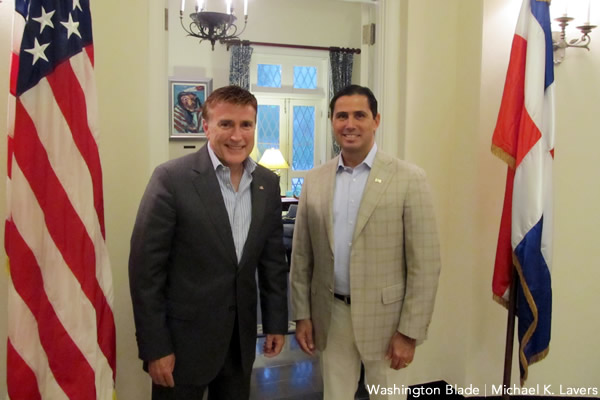 U.S. Ambassador to the Dominican Republic James "Wally" Brewster, left, and his husband[!?], Bob Satawake, at their official residence in Santo Domingo, Dominican Republic, in June 2015.
A group of two dozen Dominican intellectuals and religious leaders have urged the country's government to declare the gay U.S. ambassador to the Dominican Republic "persona non grata."
The letter sent to President Danilo Medina's administration and the Dominican Ministry of Foreign Affairs specifically cites the "intent" of the White House and the U.N. "to create the right conditions to morally deprive our adolescents in school by imposing upon them sexuality classes that have as basic text a manual that invites children to begin practicing gay and lesbian practices while in secondary school."
"This initiative to turn our adolescents gay early on is an initiative of the U.S. government that is run by a homosexual and represented by another homosexual in the Dominican Republic," reads the letter that Al Momento, a Dominican newspaper, published on its website on Wednesday.
The letter specifically criticizes James "Wally" Brewster and his husband, Bob Satawake, for "freely" taking part in last year's Pride parade in the Dominican capital of Santo Domingo. The letter also references a picture of "a group" of gay men who were "semi-naked and hugging each other" in the pool of Brewster and Satawake's official residence that a Dominican newspaper published.
"We view this invitation to public homosexuality as an indecency and a lack of decorum that shames the modesty of the majority of the Dominican population that neither shares in homosexual practices or practices their sexuality in promiscuous environments," it says.
* * *
Brewster has faced persistent criticism from Dominican religious officials since President Obama nominated him to represent the U.S. in the Caribbean country in 2013.
Cardinal Nicolás de Jesús López Rodríguez of the Archdiocese of Santo Domingo last month said Brewster is a "faggot" who wants to promote "faggotry." López during a recent interview with a Dominican newspaper described the married gay ambassador as a "wife" who "should stick to housework." – See more at: www.washingtonblade.com/2016/01/07/dominican-republic-urged-to-declare-gay-u-s-ambassador-persona-non-grata/#sthash.A2qPBiyE.dpuf