EXPOSÉ [in more than one way]: Baltimore in LEAD [in more than one way] in parish gay activism
Louie December 9, 2015 akaCatholic.com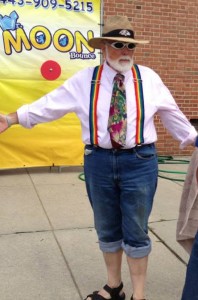 Fr. Joseph Muth (his name sounds lispy), pastor of St. Matthew's in Baltimore, the flagship of "gay friendly" parishes in the archdiocese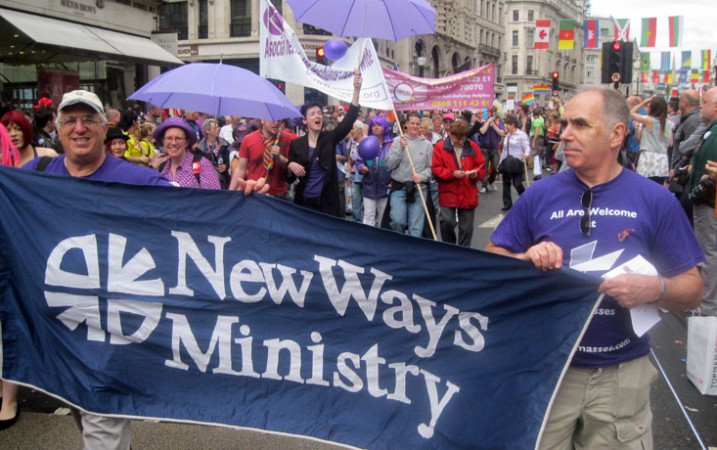 The St. Matthew's contingent in the 2013 Baltimore "Gay Pride" March, the largest group (115) of "faith communities" in the march
According to the infamous list of "gay friendly parishes" published by New Ways Ministry (NWM) – the Consumer Reports of "homo-catholicism" – the Archdiocese of Baltimore is comfortably positioned in the LEAD when it comes to parish-based gay activism in the Mid-Atlantic region, with LEAD being an acronym for "LGBT Educating and Affirming Diversity."
I'll explain more about LEAD in a moment.
For now, let's take a look at how the Archdiocese of Baltimore, my home diocese, stacks up against area competition.
To the south, the Archdiocese of Washington, led for nearly a decade by Donald Cardinal Wuerl (who is no slouch when it comes to coddling gay militants), is able to boast of just three parishes on the NWM "gay friendly" list.
That's just 2.14% of its parishes overall, but respectable nonetheless given that the national average is roughly 1.3%.
To the north, the Archdiocese of Philadelphia weighs in with just four parishes on the NWM list; that's a measly 1.82% of its total.
The Archdiocese of Baltimore, by contrast, is practically a gay pilgrimage destination; ringing the bell at no less than seven NWM "gay friendly" parishes. That's a whopping 4.86% of its total; more than 3.5 times the national average!
More ("the worst is yet to come") at akacatholic.com/expose-baltimore-in-lead-in-parish-gay-activism/