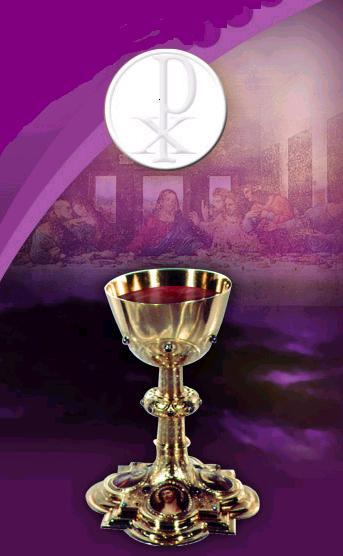 Prayers To
THE BLESSED SACRAMENT
A partial indulgence is granted for visits to the Blessed Sacrament to adore It (plenary if for at least one half an hour). Pious Invocations are granted a partial indulgence.
Eucharistic Heart of Jesus, have mercy on us.
I adore Thee, O Most Sacred Eucharistic Heart of Jesus.
Eucharistic Heart of Jesus, furnace of divine charity, give peace to the world.
Eucharistic Heart of Jesus, increase in us faith, hope and charity.
Blessed and praised be the Sacred Heart and the Precious Blood of Jesus in the Most Holy Sacrament of the altar.
Eucharistic Heart of Jesus, model of the priestly heart, have mercy on us.
O Jesus in the Blessed Sacrament, have mercy on us.
May the Most Holy Sacrament be forever praised and adored.
O Jesus, Lamb of God, continuously offered in sacrifice on the altars of the world, I unite myself to Thee.
Thou art Christ the Son of the living God (Indulgence was granted when said before the Blessed Sacrament).
——————————————————————————–
VISITS TO JESUS IN THE
BLESSED SACRAMENT
O Sacrament most holy! O Sacrament divine! All praise and all thanksgiving, be every moment Thine!
O my beloved Jesus, O God, Who hast loved men with such exceeding love, what more canst Thou do to make Thyself loved by these ungrateful men? Oh, if men loved Thee, all the churches would be continually filled with people prostrate on the ground, adoring and thanking Thee, and burning with love for Thee at seeing Thee with the eyes of faith hidden in a tabernacle. But no, men, forgetful of Thee and of Thy love, are ready enough to court a man from whom they hope to gain some miserable advantage, whilst Thou, O my Lord, Thou remainest there alone and abandoned by all. Oh, that I could by my devotion make reparation for such ingratitude! I am sorry that I also have hitherto been like them, careless and ungrateful. But for the future I will not be so any longer. If at one time I have despised Thee, I now desire nothing but to love Thee. O my Jesus, Thou art my Love and my only Good, "my God and my all!"
olrl.org/pray/ihs.shtml
————————————————————
ASPIRATIONS
Let us, with Mary Immaculate, adore, thank, pray to, and console the
Most Sacred and Well-Beloved Eucharistic Heart of Jesus.
My Jesus, mercy!
All for Thee, O Sacred Heart of Jesus!
Blessed be God! (To be especially said after hearing a blasphemy.)
May Thy Blood, oh Lord, be my salvation.
May Thy Body, O Lord, be my life.
Oh Blood and Water that came out of the Sacred Heart of Jesus
as a fountain of Mercy for us, I trust in You
We adore Thee, most Holy Lord Jesus Christ, here and in all Thy churches
that are in the while world, and we bless Thee; because by Thy holy Cross,
Thou hast redeemed the world.
Lamb of God, Who takest away the sins of the world,
grant us Thy peace.
O Jesus, grant that I may be Thine, wholly Thine, forever Thine.
O my Jesus, Thou Who art very Love, enkindle in my heart that
Divine fire which consumes the Saints and transforms into Thee.
Jesus Christ, Son of the living God, Light of the world,
I adore Thee; for Thee I live, for Thee I die. Amen.
SPIRITUAL COMMUNION
The value of a Spiritual Communion well done is great. We can and we must make a
Spiritual Communion often. This is a very simple act. It is done simply by thinking of
Jesus and His great Love for u,; and in our Love for Him. Then we have to ask
the Holy Virgin to implore to her Divine Son to come to our hearts. These
Spiritual Communions can be offered in the interests of the Sorrowful
and Immaculate Heart of Mary. Our special intentions can be added, too!
SPIRITUAL COMMUNION 1
MY JESUS, I believe that Thou art in the Blessed Sacrament. I love Thee
above all things, and I long for Thee in my soul. Since I cannot now
receive Thee Sacramentally, come at least spiritually into my heart. As though
Thou hast already come, I embrace Thee and unite myself entirely to Thee;
never permit me to be separated from Thee.
An Act of Spiritual Communion, according to any pious formula, is enriched with a partial indulgence.
SPIRITUAL COMMUNION 2
[To be recited three times.]
O, Jesus, I turn toward the Holy Tabernacle where Thou doth live hidden for love of me.
I love Thee, O, my God. I cannot receive Thee in Holy Communion.
Come, nevertheless, and visit me with Thy Grace. Come spiritually into my heart.
Purify it. Sanctify it. Render it like unto Thine Own. Amen.
Lord, I am not worthy that Thou shouldst enter under my roof, but
only say the Word, and my soul shall be healed.
www.catholictradition.org/Eucharist/holy-eucharist.htm
===============================================================
ANIMA CHRISTI
SOUL OF CHRIST, be my sanctification;
Body of Christ, be my salvation;
Blood of Christ, fill all my veins;
Water of Christ's side, wash out my stains;
Passion of Christ, my comfort be;
O good Jesus, listen to me;
In Thy Wounds, I fain would hide;
Ne'er to be parted from Thy side;
Guard me should the foe assail me;
Call me when my life shall fail me;
Bid me come to Thee above,
With Thy Saints to sing Thy love,
World without end. Amen.
ASPIRATIONS
HAIL, O true Body, born of the Virgin Mary, and which for man was sacrificed upon the Cross.
Be thou blessed, O holy Virgin, through whom we received the Heavenly Bread that preserves and increases true life within us.