Wonderful Lenten Devotions also.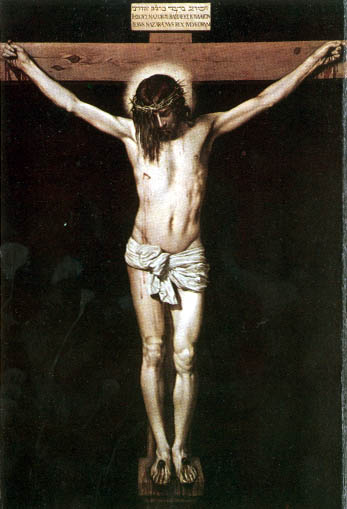 TO OUR LORD ON THE CROSS
My Crucified Jesus, mercifully accept the prayer which I now make to Thee for help in the moment of my death, when at its approach all my senses shall fail me.
When, therefore, O sweetest Jesus, my weary and downcast eyes can no longer look up to Thee, be mindful of the loving gaze which I now turn on Thee, and have mercy on me.
When my parched lips can no longer kiss Thy most Sacred Wounds, remember then those kisses which now I imprint on Thee, and have mercy on me.
When my cold hands can no longer embrace Thy Cross, forget not the affection with which I embrace it now, and have mercy on me.
And when, at length, my swollen and lifeless tongue can no longer speak, remember that I called upon Thee now.
Jesus, Mary, Joseph, to Thee I commend my soul. Amen.
Eternal Father, I offer Thee the Wounds of our Lord Jesus Christ
to heal the wounds of our souls.
—————————————————
The Holy Face of Jesus
(After the Holy Shroud of Turin)
"By offering My Face to My Eternal Father; nothing will be refused,
and the conversion of many sinners will be obtained."
(Private revelation to Sister Mary of St. Peter)
SUNDAY:
May the most holy, most sacred, most adorable, and most ineffable Name of Jesus be forever praised, blessed, loved, and adored, by all the creatures of God; and may reparation be made to His Most Holy Face for all of the outrages committed against His Holy Countenance. Amen. O Divine Jesus, through the ignominies inflicted upon Thy Holy Face, save us.
MONDAY:
O Divine Redeemer, consoled in Thy bitter Passion by the tender ministration of the holy woman Veronica, who wiped Thy Sacred Face and received the reward of her charity and valor by the imprint of Thy Holy Countenance upon her veil; imprint upon our hearts the remembrance of the sufferings and humiliations Thou didst endure for love of us, and keep us from ever insulting Thee again by our sins.
TUESDAY:
O Almighty and Eternal God, look upon the Face of Thine only-begotten Son, Jesus. We present It to Thee with confidence, to implore Thy pardon. The All-Merciful Advocate opens His mouth to plead our cause; hearken to His cries, behold His tears, O Father God, and through His infinite merits hearken to Him when He intercedes for us poor miserable sinners. Amen.
WEDNESDAY:
O good Jesus, Who hast said, "Ask and you shall receive, seek and you shall find, knock and it shall be opened unto you", grant us, O Lord, in virtue of Thy resplendent Face upon which the Eternal Father gazes with ineffable love, that faith which obtains all, or supply in us what may be deficient; grant us, by the pure effect of Thy charity, and for Thine eternal glory, the grace of sincere contrition for our many sins, a firm purpose of amendment, and final perseverance in Thy love. Amen.
THURSDAY:
Eternal Father, I offer Thee the adorable Face of Thy Beloved Son for the honor and glory of Thy Name, for the conversion of sinners and for the salvation of the dying. Be merciful to us, O God, and reject not our prayers, when amid our afflictions, we call upon Thee and seek with love and confidence Thine adorable Face. Amen.
FRIDAY:
O Lord Jesus Christ, in presenting ourselves before Thine adorable Face to ask of Thee the graces of which we stand most in need, we beseech Thee, above all, to grant us that interior disposition of never refusing at any time to do what Thou dost require of us by Thy holy commandments and Divine inspirations. Amen.
SATURDAY:
Adorable Face of my Jesus, my only love, my light and my life, grant that I may know, love and serve Thee alone; that I may live with Thee, in Thee, by Thee, and for Thee. O merciful Mother, Mary most Sorrowful, let thy tender hand wipe from my soul not only the stains of sin, but also its consequences, which would paralyze the effects of thy reign in my heart. Restore to the souls of thy children the image of Jesus in all its beauty. Obtain for us great purity of heart, of body, and of mind, that we may contemplate the Face of God in Heaven forever. Amen.
V. Light of the Sacred Countenance of Jesus;
R. Shine down upon us!
+++++++++++++++++++++++++++++++++++++++++++++++++++++++
VENERATION OF THE THORN-CROWNED HEAD OF OUR SAVIOR
And plaiting a crown of thorns, they put it upon His head. They began to spit upon Him, and they gave Him blows. Others smote His face and said: "Prophesy, who is it that struck Thee?"
O holy Redeemer! Thou art clothed with a scarlet cloak, a reed is placed in Thy Hands for a sceptre, and the sharp points of a thorny crown are pressed into Thy adorable Head.
My soul, thou canst never conceive the sufferings, the insults, and indignities offered to our Blessed Lord during this scene of pain and mockery.
I therefore salute Thee and offer Thee supreme homage as King of Heaven and earth, the Redeemer of the world, the Eternal Son of the living God.
O my afflicted Savior! O King of the world, Thou art ridiculed as a mock king. I believe in Thee and adore Thee as the King of kings and Lord of lords, as the supreme Ruler of Heaven and earth.
O Jesus! I devoutly venerate Thy Sacred Head pierced with thorns, struck with a reed, overwhelmed with pain and derision.
I adore the Precious Blood flowing from Thy bleeding wounds. To Thee be all praise, all thanksgiving, and all love for evermore.
O meek Lamb, Victim for sin! May Thy thorns penetrate my heart with fervent love, that I may never cease to adore Thee as my God, my King, and my Savior.
V. Behold, O God, our Protector;
R. And look upon the Face of Thy Christ.
Let us Pray: O my beloved Savior, at sight of Thy most Holy Face disfigured by suffering, at sight of Thy Sacred Heart so full of love, I cry out with St. Augustine: "Lord Jesus, imprint on my heart Thy Sacred Wounds, so that I may read therein sorrow and love: sorrow, to endure every sorrow for Thee; love, to despise every love for Thee." Amen.
We adore Thee, O Christ, and we praise Thee,
because by Thy holy Cross Thou hast redeemed the world.
——————————————————————————–
AN ACT OF CONTRITION
O Most loving Redeemer, humbly prostrate at the foot of the Cross, I implore from the bottom of my heart pardon for all my sins, which were the cause of Thy bitter Passion and of the overwhelming sorrow of Thy most afflicted Mother. O good Jesus, let not Thy Precious Blood be shed for me in vain. May Thy five Sacred Wounds ever plead before Thy Eternal Father on behalf of my misery; and through the infinite merits of Thy Sacred Death and the bitter anguish of Thy holy Mother, grant me, dearest Lord, to atone for the past and to persevere in Thy love for the future. Amen.
————————————————————————–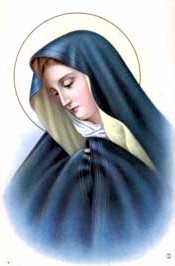 PRAYER TO OUR SORROWFUL MOTHER
by St. Alphonsus Maria Liguori —
O my afflicted Mother! Queen of Martyrs and of Sorrows, thou didst so bitterly weep over thy Son, Who died for my salvation; but what will thy tears avail me if I am lost? By the merits, then, of thy Sorrows, obtain for me deep contrition for my sins, and a true amendment of life, together with constant and tender compassion for the sufferings of Jesus and thy Dolors. And if Jesus and thou, being so innocent, have suffered so much for love of me, obtain that at least I, who am deserving of Hell, may suffer something for thy love. "O Lady," will I say with St. Bonaventure, "if I have offended thee, in justice wound my heart; if I have served thee, I now ask wounds for my reward. It is shameful to me to see my Lord Jesus wounded, and thee wounded with Him, and myself without a wound." In fine, O my Mother, by the grief that thou didst experience in seeing thy Son bow down His head and expire on the Cross in the midst of so many torments, I beseech thee to obtain for me a holy death. Ah, cease not, O Advocate of sinners, to assist my afflicted soul in the midst of the combat in which it will have to engage in its great passage from time to eternity. And as it is probable that I may then have lost my speech and strength to invoke thy sweet name and the Holy Name of Jesus, Who art all my hope, I do so now; I invoke thy Son and thee to succor me in that last moment; and I say, Jesus and Mary, to Thee I commend my soul. Amen. (Silent reflection… Our Father, Hail Mary, Glory be…)
———————————————–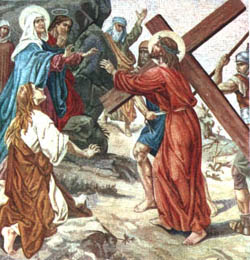 FOR SINCERE CONTRITION
O Virgin, all burning with love, O Mary, Mother of Dolors, I am most unworthy to stand in thy presence; but when I remember that thou art the Mother of Mercy, the Comforter of the Afflicted, the Treasurer of Divine Grace, I feel confidence revived in my heart. I therefore have recourse to thee with all the power and affection of my soul, hoping to obtain what I come to ask of thee, namely, a true contrition for my many sins and my great ingratitude, a deep sorrow for having offended my Jesus, Who has never ceased to load me with favors since He created me. Obtain for me, O tender Mother, that my sorrow for having lost Divine grace may be like to that which thou didst feel, when thou didst lose thy beloved Son; pierce my ungrateful heart with that sharp sword with which thine own was transfixed at the foot of the Cross; implore for me the frequent remembrance of death, that I may always keep before me the sense of my nothingness, and obtain for me the grace of final perseverance, that I may die the death of the just. Remember, O my beloved Mother, that if I obtain these graces through thy intercession, I shall here below be more faithful to thy beloved Son, thus giving joy to thy heart, and shall one day be with thee in the Kingdom of Heaven, there to bless thee and thy Divine Son for ever. From thee I ask these favors, O my loving Mother; through thee I "expect" them: in thee I place my trust, because thou art the Mother of my Savior. Amen. (Silent reflection… Hail Mary…)
O Mother most Sorrowful, pray for us who have recourse to thee.
————————————————————————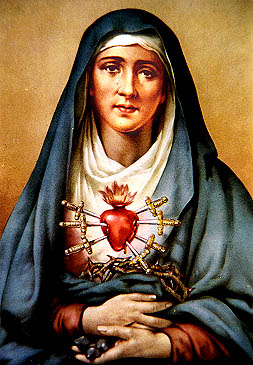 PRAYER IN HONOR OF THE TEARS OF MARY
Hail, countless and bitter tears which flowed in such profusion from thine eyes, O Mary, in thy loving and tender compassion for thy Son, our Crucified Savior! Men and Angels shall honor and revere these tears, and all sinners shall flee to them for refuge, for they have their source in thy most compassionate Heart, O Sorrowful Mother! Even as the crimson Blood flowed from the Wounds of Jesus, so did the tears flow from thine eyes, O Mary, mingled with unutterable bitterness on account of the agony with which thy soul was overwhelmed. Hail Mary…
O burning tears, O bitter tears, O mournful tears which moved the Angels to pity and touched the Heart of the Eternal Father! Soften my hard heart that it also may be moved to pity and to a true sorrow for my innumerable sins. O holy tears, wash me! O bitter tears, purify me! O mournful tears, cleanse me! O gentle tears, soften my heart! O burning tears, inflame it! O tears rich in merit and grace, enrich and adorn me! Hail Mary…
O most gentle Virgin, I recall to thee the heartfelt compassion which thou didst feel for thy Divine Son during His Passion, and the countless tears which then flowed from thine eyes. I beseech thee, through these bitter tears, to obtain for me the gift of tears and a true and heartfelt sorrow for my sins. Oh, would that I could shed such efficacious and salutary tears over the cruel sufferings of my Savior, and over my sins, as thou didst shed at the foot of the Cross. O most merciful Virgin, offer, I beseech thee, thy bitter tears to the Eternal Father in satisfaction for my tepidity and hardness of heart; and through their merit obtain for me mercy and pardon of all my sins. And when, O dearest Mother, I lie upon my deathbed, give me but one of thy precious tears wherewith to wash and purify my sinful soul and guilty conscience. Amen. Hail Mary…
Let us Pray
Oh! Mother of Sorrows, given from the Cross to be our Mother, who didst behold the red drops of the Precious Blood falling down to the ground, remember the Sorrows which then overwhelmed thee like the waves of the sea, and which no other creature but thyself ever suffered on earth.
Oh! Mother of Sorrows, plead for us to the Eternal Father, intercede for us with thy Son, pray for us to the Holy Ghost, that after this our pilgrimage is over, we may behold the face of thy Son, and dwell with Him forever in eternal joy. Amen.
———————————————————–
PRAYER FOR MERCY FOR THE POOR SOULS IN PURGATORY
Have mercy, O gentle Jesus! on the souls detained in Purgatory. Thou Who for their ransom didst take upon Thyself our human nature and suffer the most cruel death, pity their sighs and the tears shed when they raise their longing eyes toward Thee; and by virtue of Thy Passion, alleviate the penalty due to their sins. May Thy Blood, O tender Jesus, Thy Precious Blood, descend into Purgatory to solace and refresh those who there languish in captivity. Reach forth Thy hand to them, and lead them into the realms of refreshment, light, and peace. Amen.
Divine Heart of Jesus, convert sinners, save the dying,
set free the Poor Souls in Purgatory.
———————————————————
PRAYER FOR THOSE IN THEIR LAST AGONY
O Most Merciful Jesus, Lover of Souls: I pray Thee, by the Agony of Thy most Sacred Heart, and by the sorrows of Thy Immaculate Mother, cleanse in Thy Blood the sinners of the whole world who are now in their agony and are to die this day. Amen.
Heart of Jesus Agonizing, have mercy on the dying.
Jesus, Mary, and Joseph, we love Thee, save souls.
———————————————————————
The Stations of the Cross
According to the Method of
St. Alphonsus Ligouri
olrl.org/pray/wayofcross/