[His Eminence says that he is "coming solely as a pastor, only to pray, not to endorse any party, platform, or candidate," and the good sister will do more than pray (if she prays at all)]
Sister Simone Campbell And Cardinal Timothy Dolan To Bless The Democratic Convention
Religion News Service | By David Gibson Posted: 08/28/2012
www.huffingtonpost.com/2012/08/28/cardinal-timothy-dolan-sister-simone-campbell-democratic-convention_n_1837848.html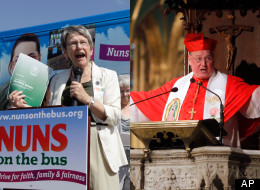 NEW YORK (RNS) In a move that could recast the reigning political narrative about the Catholic bishops, Cardinal Timothy Dolan has accepted an invitation to deliver the closing benediction at the Democratic National Convention, a week after he gives a similar blessing to the Republicans in Tampa, Fla.
From the start, Dolan, who is also president of the U.S. Conference of Catholic Bishops, made it clear that he would be willing to pray at the Democratic convention. There were doubts, however, that the Democrats would invite Dolan.
The Obama campaign also revealed Tuesday (Aug. 28) that Sister Simone Campbell, the popular face of the recent "Nuns on the Bus" tour for social justice, will be addressing the Democrats in Charlotte, N.C., the night before Dolan's appearance.
That is kind of a Catholic "two-fer" that threatens to upstage GOP nominee Mitt Romney's Catholic outreach and highlights the importance of this swing vote in a deadlocked race.
"It was made clear to the Democratic Convention organizers, as it was to the Republicans, that the Cardinal was coming solely as a pastor, only to pray, not to endorse any party, platform, or candidate," Dolan's spokesman, Joseph Zwilling, said in a statement released Tuesday by the Archdiocese of New York.
Zwilling added that Dolan had consulted Bishop Peter Jugis of the Diocese of Charlotte, who consented to Dolan's role in the convention. By tradition, if a Catholic churchman takes part in a political convention, it is usually the local bishop. Dolan had to upend church protocol to appear, which is part of the reason the Romney campaign's success in securing Dolan's participation was notable, and why it drew so much criticism from the left.
Democratic officials stressed Tuesday that there was no deliberate balancing act in featuring both the cardinal and the nun.
"One was not done because of the other," said a campaign aide. "We are delighted to have both of them at the convention."
* * *